Brilliant cricketer not speaking about rebuilding career.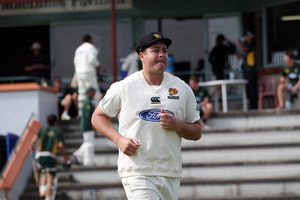 The drums started beating on Wednesday night, shortly after Jesse Ryder's second century inside three days on his return to first-class cricket.
The Wellington lefthander, having returned from a self-imposed seven-month break from the game, toyed with the Central Districts attack, making 117 not out and 174 to carry his team to a five-wicket Plunket Shield win in Napier.
The talk around the cricket traps swiftly turned from if Ryder would return to the New Zealand team, to when. So he's back and ready for national duty? Think again.
Ryder's not speaking, but his manager and mate, Wellington businessman Aaron Klee, made it clear last night plans to have the gifted batsman back in the New Zealand team won't be fast-tracked, or compromised. Memories of his off-field battles with booze and discipline are too fresh.
"Absolutely," Klee said of their resolve not to be rushed over a return.
"I've already told New Zealand Cricket it's too early. In my opinion it's not even a discussion.
"Communications have been good. We've worked on a framework and when the time is right we'll all sit down and talk about it."
Klee won't even speculate on when Ryder might make himself available for New Zealand, but forget the upcoming tour to South Africa and perhaps even the visit by England in February-March.
There won't be any short cuts. The plan, which Klee estimates is about 75 to 80 per cent done and which all relevant parties have bought into, extends no further than a season of domestic cricket, ensuring Ryder is happy with the game, and his game, and is in the right frame of mind for the step up.
"Plans might change. Jesse might wake up one day and have the taste.
"At that stage we'd still kick the tyres a bit to make sure everything is right and the reasons [for returning to international cricket] are valid. If we screw it up we're back to square one and it's another wasted year. We do it right, hopefully we do it once."
No one disputes a New Zealand team with Ryder in it is a better outfit than one without him. In 18 tests he's averaged 40.93. His hand-eye coordination is superb, his bat speed swift and he has the ability to make batting look easy.
In Klee, he has a good man who has his back. But Klee is also pragmatic. Ryder hasn't had a drink in seven months, but Klee knows there's no magic pill which ensures Ryder's rocky days are in the past.
"Don't think all of a sudden it's all rosy and Jesse's an angel. He's Jesse. People need to start accepting that. He'll screw up, he'll make mistakes, he'll have bad headlines but you've got the brilliance as well.
"He's made some massive changes, and maybe we've shaved some of the sharp edges off, but he wears his heart on his sleeve, he's passionate about what he does and he'll put himself in situations where he'll get offside with people.
"You take the good with the bad. That's just how it is. He's not your typical white collar middle class cricketer. How many guys like him prosper in the sport of cricket: bugger all."
When Ryder walked away after more disciplinary issues during the South African tour last summer, it ate hard into his love of the game. And now, after this week's blockbusting double?
"It's rebuilding, that's probably the right way to put it. He left in a pretty damaged way at the end of last season. He was quite badly affected and it probably did erode his love of the game.
"That's why this plan is in place and the conservatism around it, so he can have a good solid season of domestic cricket and enjoy himself."
There have been plenty of conversations with New Zealand team manager Mike Sandle and captain Ross Taylor, a Masterton contemporary of Ryder. Bridges are being rebuilt.
With a realistic outlook on what the future holds for the 28-year-old, it's best to enjoy the good weeks. Klee certainly did, quipping that he might have been more keen than Ryder to get back out on the park.
"There's been a lot of time sitting around not doing much. You get sick of training. But he has that ability to switch off when he bats, not give a toss about anything else when he's facing up. Everything else just goes out the window. That's quite an attribute."
Central Districts veteran Mathew Sinclair said that fielding to Ryder reminded him of days in English league cricket, where teams knew if they got the opposing professional player out, the rest of the team would follow quickly. He was that good.
It was only one step, but many fingers are crossed that this week won't prove a false dawn.