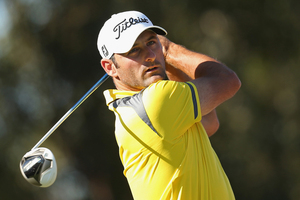 New Zealand professional Michael Hendry has a chance to claim a special piece of history when he tees it up at Clearwater for the New Zealand Open later this month.
The 33-year-old, who won the inaugural New Zealand PGA Pro-Am Championship in March for his biggest victory on home soil, will look to become the first golfer for more than five decades to win the New Zealand PGA-New Zealand Open in the same year.
Australian legend Kel Nagle was the last golfer to complete that feat when he did the double in 1957 and 1958.
Hendry, who recently finished fourth in the Perth International at the co-sanctioned European Tour and PGA Tour of Australasia event, is excited about the prospect of that milestone.
"That would be a special achievement if I can pull it off as no one has done that in a long time."
Hendry, like most Kiwi golfers, said winning the New Zealand Open had been a dream since he began playing competitively.
"It is our national championship so it's a tournament I will always do my best to play. Whether the purse was $500,000 or $50,000 I would still be playing this event as I love it. I want to play well in it and I want to win it."
He is looking forward to returning to Clearwater and in particular rethinking his game plan for the John Darby and Sir Bob Charles designed layout.
"Clearwater kicked my a*** last year," he said laughing.
"I had never played Clearwater like that. It was firm and the rough was long and it played really hard. I had a game plan that had worked at Clearwater in previous years but the course was playing really differently. So I will be having a rethink about my strategy this time around and make sure I am better prepared."
Hendry, who is playing the third stage of four at Japan Q School this week, is the current leader on the PGA Tour of Australasia Order of Merit with $164,233.42 ($207,000 NZD) from five events. He leads compatriot Mark Brown by $107,000 (AUD) as he heads into the business end of the season.
If Hendry can finish off the Order of Merit it could be career changing.
He would be exempt for five years on the PGA Tour of Australasia and the OneAsia Tour as well as entry into the final stage of qualifying at major tours around the world.
He would also receive tournament exemptions to the British Open at Muirfield in 2013 and entry to some of the World Golf Championship events.
Hendry took his game to the next level in Perth when he finished fourth in a world-class field with the likes of Jason Dufner, Paul Casey and Charl Schwartzel in company.
As he did before his biggest win - the Indonesian Open of 2010 on the OneAsia Tour - Hendry felt like a big performance was coming.
"I felt I was due that sort of performance. I said to a good mate at the Wanganui Pro-Am that I feel like I am pretty close to playing really well and it wasn't so much hope but I knew that it was coming.
"That result in Perth gave me a huge amount of confidence to know that I can compete with some world-class golfers and that I was good enough. It was great exposure for me too as a lot of people have congratulated me on that performance since coming home."
Playing more golf has seen Hendry come back to his best in 2012 and he is looking forward to making the most of a hectic run in the next six weeks.
For a late starter Hendry has already forged a career of note but he is not done with yet.
Hopefully there is more to come and winning the NZ Open is top of that list.
"It has had a volatile existence in the past few years so we are all very grateful that we still have it. It would be nice to play well and it is about time that a Kiwi finishes the week with the title. If it is not me winning it then I hope another Kiwi can get the job done."
- APNZ