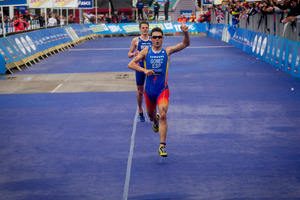 The "new breed", Kris Gemmell calls them: they are triathletes, typified by the Brownlee brothers of Britain, who have taken the sport to a new level with their running speed.
It's still a sport of three disciplines - swim-bike-run - but athletes such as Jonathan and Alistair Brownlee are taking the 10km final leg to a new level. The question now is: just how fast can they go?
Olympic gold medallist and former world champion Alistair, not at yesterday's ITU final of the world championship in Auckland after a recent appendix operation, won in London with a 10km time of 29 minutes seven seconds. And that with his body already fatigued by a 1500m swim and 40km cycle leg.
To put his running time into perspective, Mo Farah won the Olympic 10,000m track gold medal in 27m 30s.
Yesterday's split times in downtown Auckland obviously weren't going to be as impressive, given the hilly course and torrential rain, but the run was still extremely fast as Gemmell quickly found out.
His 58s lead off the bike was swallowed up at the end of the first 2.5km lap.
Javier Gomez, of Spain, took line honours with the same 30m 34s run split as second placegetter and overall world champion Jonathan Brownlee. He finished in 2h 00m 29s, 2s ahead of Brownlee, who only had to finishon the podium to take out the overall title.
"You've got Javier, Jonny and Sven [Riederer], these guys are running 30 minutes off the bike on a course like that, that's what those young fellas are up against now," Gemmell said.
"It's amazing to be part of the new breed of triathlon. That's it out there standing on the podium, that's what our sport has come to.
"That's nothing against Hamish [Carter] and what those guys were doing. But in eight years we've gone from running 33 minutes to running 30 minutes flat."
Jonathan Brownlee said he wasn't too sure about his run being at the next level, given the weather and what he called a tactical error in losing the sprint to Gomez.
The 22-year-old added: "Today we weren't running that fast. It wasn't as fast as the Olympics where we were running 29 minutes and it felt like we were sprinting.
"But today was a different race altogether. The hills on the bike leg made it very hard so the first bit of the run wasn't very fast. And it was very wet so around the corners you couldn't run fast.
"But at the Olympics, the fact that Alistair won it in near enough 29 minutes, that's fast running."
Brownlee set himself up with a good swim, coming out of the water just behind training partner Richard Varga of Slovakia in 17 minutes and then doing a power of work on the bike.
While he was caught in the end by Kris Gemmell, Brownlee was always confident he had the legs to catch him with the running shoes on.
"I knew we could give him a minute before we got worried."
Fast fact
Alistair Brownlee won the London Olympics triathlon after running the final leg in 29m 07s, a time that would have been good enough to win the 1968 Olympics 10,000m final.
- APNZ