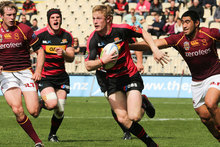 Canterbury 84
Southland 0
Canterbury's record demolition of Southland today served two purposes: putting daylight between the top four in the rugby premiership and demonstrating they will mount a vigorous defence of their crown.
Canterbury are chasing their fifth successive national title. Today's 84-0 win at AMI Stadium - their biggest over Southland, eclipsing the 88-12 dusting in 1993 - kept Canterbury fourth in the ITM Cup, five points behind leaders Wellington and eight ahead of Bay of Plenty, with the final round robin games a fortnight away.
Canterbury's first half display today was special. They were 49-0 up at the interval, but the scoreboard operators were able to take a seat and get a cuppa during the third quarter before the hosts ramped up the pressure again, nabbing five tries in the last 17 minutes.
Canterbury, for all the quality of their support play and incisive running, did receive some assistance from a lame Southland defence.
In the first half, tackling appeared to have been on an optional basis. Defenders fell off tackles like drunks off barstools and Canterbury are not inclined take their foot off an exposed throat.
There were seven tries before the break, and while some owed much to sloppy defending, Canterbury's link play was top class. Rarely was a player left to die with the ball.
Veainu, Robbie Freuan, Johnny McNicholl cut merry capers, halfback Willi Heinz was a snappy prompter and Tom Taylor's 12-from-12 conversions speaks for itself.
A year ago Southland won this fixture, 22-19 to lift the Ranfurly Shield.
"It's a bit embarrassing really," Southland captain Jamie Mackintosh said. "We didn't prepare for anything like this."
You'd hope not.
Elsewhere the week looms as especially important for Taranaki, who need only beat Waikato on Wednesday night to retain the Ranfurly Shield for the entire season. The manner of their 59-18 win over Manawatu on Saturday suggested the Mooloos, out of sorts too often this season, will have their work cut out.
But get the win and Taranaki will also take a large stride towards hosting a semifinal on October 19 or 20.
Wellington and Auckland can help their home semifinal ambitions too, with away wins over championship teams Otago and North Harbour respectively this week. That has the makings of a decent four-way top-end scrap within the premiership.
Canterbury 84 (Johnny McNicholl 3, Telusa Veainu 2, Paea Fa'ununu 2, Willi Heinz, Robbie Freuan, Adam Whitelock, Nusi Manu, George Whitelock tries; Tom Taylor 12 con)
Southland 0. HT: 49-0.
By David Leggat

Email

David