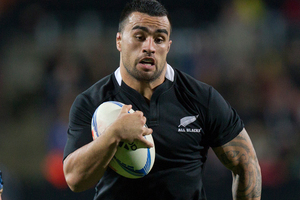 Liam Messam appears to have a firm grip on the All Blacks' No 6 jersey and coach Steve Hansen believes the Waikato loose forward is now setting the standard in the position.
Messam impressed during his 37 minutes off the reserves bench after he was summoned to replace an underwhelming Victor Vito as the All Blacks struggled to subdue Argentina 21-5 in Wellington.
Hansen has been on the lookout for an imposing blindside flanker after Jerome Kaino left a gaping hole there when heading to Japan this year.
Since Messam's test debut in 2008 the former New Zealand Sevens representative has struggled to find a home in the national squad.
Adam Thomson has also been used this year by Hansen and Co but the Otago loose forward hasn't even suited up for the All Blacks since he played off the bench against Ireland on June 23.
Vito was given the chance to start on his home track against the Pumas as Hansen noted Messam had endured a huge workload this season following a big Super Rugby campaign with the Chiefs.
But Vito was unable to stamp his footprint on the game and although Messam may have came in fresh against some tired bodies, he appeared to have more of an impact around the paddock.
"Well if you're saying Liam's playing well, yeah, he is. He's playing really well," Hansen said today.
"He's come back into the squad, he's had a real consistent Super 15 season and he's been consistent for us and offering plenty. So that's really pleasing and he's setting the standard the other guys are going to have to come into if they want to take the jersey off him."
Not one to sing his own praises, Messam said he was simply doing his part; although he did reveal he had managed to find balance in his life away from the game this year which had helped his consistency.
"I'm just doing my best for the team wherever I can help and I always give my 100 per cent," he said.
"Physicality [on the field] is a big part of it. Just off the field as well, the balance off the field. It's not just all about rugby because there's life outside of rugby that I think I've balanced out well.
"A few things in my life that's happened that I'll keep to myself, but that's really put life in perspective that it's not just all about rugby. So this is only here a short time so enjoy it as much as you can and give it a good crack."
Messam, 28, seems all but certain to start in the No 6 jersey ahead of Vito and Thomson against South Africa in Dunedin on Saturday but the veteran of 96 Super Rugby games said there was plenty of competition within the squad to win the start.
"There's an edge in that jersey, especially at training. All three of us are really trying hard for that one position so that's healthy for me as an individual because I know that I have to be on my toes and play to the best I can."
- APNZ