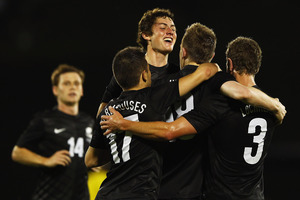 Yes, the fiasco in Honiara bugs them but no, it is not the only driving force as the All Whites set out on the road to Brazil with their first 2014 World Cup qualifier against New Caledonia in Noumea tomorrow night.
"I am not sure we will visit that [the horror show in Honiara] too much," said coach Ricki Herbert from the team's base in Noumea yesterday. "We have a slightly different group of players and it is more about looking forward than back now.
"Sure, we weren't happy about what happened there and it is now down to all of us to get things right and move on. I'm sure we have all come here with the best of intentions and know what has to be done.
"One thing is certain though, losing at the Oceania Nations Cup and with that the chance to play in the Confederations Cup has definitely made us more determined than ever to get to the World Cup."
With Chris Killen and Shane Smeltz joining the 20-strong All Whites squad in Noumea yesterday afternoon, Herbert had all his players involved in the second of two training runs yesterday.
In changes from the team who finished third at the Nations Cup in June, captain Ryan Nelsen, West Ham's goal-grabber Winston Reid, goalkeeper Mark Paston and US-based Dan Keat come in while Aaron Clapham, Jake Gleeson, Ian Hogg, Cameron Howieson and Michael O'Keeffe, who were in Honiara, have dropped to the "standby list" with Tim Myers and Adam McGeorge being overlooked.
Herbert is taking a wait-and-see attitude about a likely formation. He still hankers to play three at the back saying "look what it did for us at the World Cup" but is keeping an open mind before settling on his playing XI and the way they will line up.
The hosts will be no easybeats.
There is a bit of history between the two countries stretching back to 1951 when they first met, in Noumea, with the New Caledonians - playing their first international - winning 2-0. That two-goal margin was repeated in Honiara in the Nations Cup semifinals when goals to Bertrand Kai, on the hour, and Georges Gope-Fenepej, three minutes into stoppage time, completed the massive 2-0 upset which cost the All Whites their chance of playing in the final.
New Caledonia have won the last two South Pacific Games - in 2007 and 2011 - and boast a solid home record.
In the 2010 World Cup qualifiers New Zealand won 3-1 away and 3-0 at home but it could, given recent results, be a little closer this time.
Given that 15 of the 23 All Whites who were in South Africa for World Cup 2010 are in Noumea, Herbert has great depth and experience to call on. The new players in this squad, Michael Boxall, Kosta Barbarouses, Keat, Tim Payne and Marco Rojas, certainly do not lose anything in comparison with the players they have replaced and have only added to Herbert's selection conundrum.
Right off he has a difficult choice in handing out the goalkeeping shirt.
Paston was in Honiara but badly concussed in the first game and took no further part. Moss was there but did not play. Paston did not go to India for the Wellington Phoenix pre-season tour, Moss did. Paston was outstanding at the last World Cup and had played 32 games for his country, Moss, back at the Phoenix after a stint elsewhere in the A-League, has played 19 times for the All Whites.
A difficult call but with Moss having that recent experience - he and his fellow Phoenix players and Herbert arrived in New Caledonia from India (a long and difficult journey) - Herbert might be inclined in that direction first-up.
Interestingly, the two goalkeepers do not room together on such trips, not because of anything sinister but as a precaution.
"If they were rooming together and one came down with something, we certainly wouldn't want the other keeper to catch it," explained Herbert. "But, as always, making that call will be a tough one."
And so will a couple of others.
WORLD CUP QUALIFIER
New Caledonia v New Zealand
Stade Numa-Daly Magenta, Noumea
Tomorrow 9pm (NZ time)
All Whites: Glen Moss, Mark Paston, Michael Boxall, Tony Lochhead, Ryan Nelsen, Winston Reid, Ben Sigmund, Tommy Smith, Ivan Vicelich, Kosta Barbarouses, Leo Bertos, Jeremy Brockie, Dan Keat, Michael McGlinchey, Tim Payne, Marco Rojas, Rory Fallon, Chris Killen, Shane Smeltz, Chris Wood.