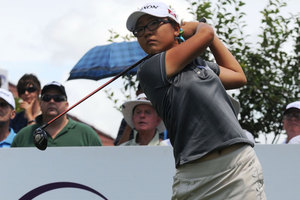 Lydia Ko is turning heads again, this time at the Canadian Open, where she is in a share of third place after carding a four under par 68 in the opening round of the the LPGA Tour event.
The 15-year-old, who two weeks ago became the first Kiwi and the second youngest golfer to win the US Amateur Championship, will begin round two only two shots behind her heroine and world No 1 Yani Tseng.
"It's always good to scramble with the pros," Ko said. "It was a really good day at the office for me, so hopefully that will continue in the next few days."
Ko is playing in her 10th professional event and third on the LPGA Tour and made four birdies on her front nine before playing the second nine even. She feels she is growing in confidence playing alongside and competing with the world's best golfers.
"I'm getting there. It's kind of nerve-racking to play along with the pros.
I've played a few professional events, but this is my third LPGA event. Everyone is here, and the world's best are here.
"This year I've been kind of finishing quite bad overall. Last year I kind of charged up the leaderboard in the end of the last few rounds. But this year that's kind of disappearing, so hopefully from this event, I'll go up and up and up."
- APNZ