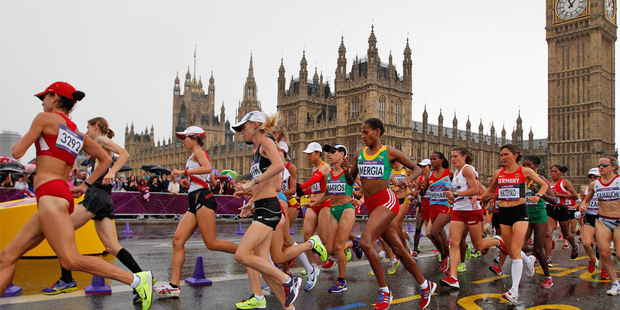 A quick bite of the best of the action from day nine at the London 2012 Olympics.
Not the busiest day in New Zealand Olympic history, nor the most successful, but hang in there, Val's on tonight! Or is she? Her name did not appear on the start lists for the shot put. As far as administrative errors go, it's a doozy, but calm down, the NZOC insist she's competing.
First ever boxing win for NZ women
Female boxing made its debut and if you know what, if it's good enough for men to try to inflict brain damage upon each other for the entertainment of others, who are we to pass judgement on women who want to do the same.
By the way, Alexis Pritchard won her lightweight bout against Tunisia's Rim Jouini to advance to the quarterfinals. One more win and she's in the medal rounds. Flyweight Siona Fernandes Olympic debut was a grueling affair. She was outclassed 23-11 by Bulgarian Stoyka Petrova.
Mixed day on the water
On the windswept waters of Weymouth, Jo Aleh and Olivia Powrie had a mixed day in the 470s, scoring a 10th and a 4th to lie in second behind the Brits. Blair Tuke and Peter Burling lost a chance to challenge Australia for gold in the 49ers, with a 15th in their second race after a 2nd in the opener. They still sit 2nd overall with three races to go.
Hamish Pepper and Jim Turner had a good finish to the star regatta, coming 2nd in the medal race and finishing 5th of 16 teams. Pepper has compiled a very handy Olympic record without ever being able to break through for a medal. Ben Ainslie came from well back halfway through the regatta to overhaul Dane Jonas High-Christensen for gold. Dan Slater in 7th after a 2nd place in the medal race. JP Tobin had an ugly pair of 17ths and is well off the pace in 7th.
Smith battles on slippery marathon course
Kim Smith ran 15th in the marathon, pretty good considering the 118-strong field, but the Rhode Island-based runner was neither happy with her own race or the state of the course. She slipped all over the twisty cobblestone lanes through the City section of the course on her way to a time of 2h 26m 59s. Ethiopian Tiki Gelana won in 2.23.07s, an Olympic record, with Kenya's Priscah Jeptoo 5s back in 2nd and Russian Tatyana Petrova Arkhipova 3rd.
If fate was going to hand anyone the women's marathon, it would have been defending champion Constantina Dita. The Romanian started the race aged 42 and 195 days old. The marathon distance: 42.195kms. She finished 86th.
Archbold fades in omnium
If Shane Archbold was to have any chance of making a comeback in his bid for an omnium medal, it was dashed during the individual pursuit. He punctured after 2kms and had to re-run his race. Even the restorative powers of his magnificent mullet couldn't help him and he finished with a time well outside his PB. In the scratch race he finished in 13th and is eighth overall with just has the time trial to go.
The men's hockey team scraped to a 1-1 draw against Belgium, continuing an insipid campaign.
Andy Murray won Wimbledon!
Well, not quite, but it would have felt about the same. He destroyed his grand slam final nemesis Roger Federer in straight sets in the singles final. Serena Williams bagged her second gold, teaming up with big sis Venus to beat Czech pair Lucie Hradecka and Andrea Hlavackova.
Medal watch:
China have reclaimed top spot with five golds today taking their total to 30, and overall tally to 61. USA sit three golds back. New Zealand has slipped to 14th after Hungary won a third gold overnight.