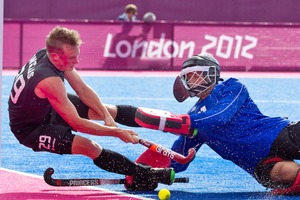 It's not known that anyone in the New Zealand men's hockey team has a police record but they nearly committed a crime when they had a late chance to beat Belgium.
They had two penalty corners in the final two minutes of the match and came desperately close to snatching a winner. It wouldn't have been deserved, after they were poor against Belgium, and they weren't hiding from that fact after the 1-1 draw.
"We nearly stole it in the end and we would probably have been walking out with balaclavas on," coach Shane McLeod said. "It would have been a little bit of a burglary."
They were lucky they were still in the match at that stage. Before a late flurry by the Black Sticks, Belgium dominated for large periods and at one stage led the shot count 18-4.
There was plenty of perspiration from New Zealand but little inspiration except for one moment of individual brilliance from Nick Wilson to score and goalkeeper Kyle Pontifex was excellent throughout.
But, as McLeod said, "I never like it when my goalie is man of the match because it means he's had to do too much work."
Belgium are a team on the rise, and beat New Zealand twice last year, but the Black Sticks would have looked at this match against the tournament's second-lowest ranked side as a banker.
But a lot has happened since then. They made the worst possible start to their Olympics with a 2-0 defeat to Korea that left them playing catch-up and were left behind with a 5-1 defeat to the Netherlands that effectively ended their medal hopes. It is clearly still affecting the team and they are playing like all the confidence has drained from them.
"I think we are still getting to grips with some of the past performances," McLeod said.
"It's not an easy thing. The Olympics is a lot about momentum and keeping it. You can see that with the [New Zealand] women's team and things are falling in a nice way for them. When you don't have that, it becomes tough and you have to work even harder on the mental side of the game and sometimes that effects the hockey."
They will need to be much better in their final pool game against defending Olympic champions Germany or could be on the end of a hiding, metaphorically speaking.
New Zealand 1 (Nick Wilson 54) Belgium 1 (Tom Boon 49). HT: 0-0