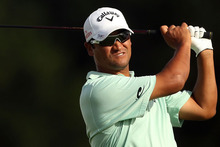 Michael Campbell has shot a nine over par 79 in his first round at Olympic Club in the US Open today.
The 43 year-old Kiwi made a promising start shooting two-over on the back nine before rapidly deteriorating on the front nine.
He posted a double bogey on the second hole and then a triple bogey on the fourth.
Campbell currently sits 14 shots behind leader Michael Thompson on -4.
Campbell won the US Open at Pinehurst in 2005 - becoming the second New Zealander to win a major after Bob Charles - carding an even par of 280.
Since that win he has only made the cut once at the US Open when he finished 58th in 2007.
- Herald Online