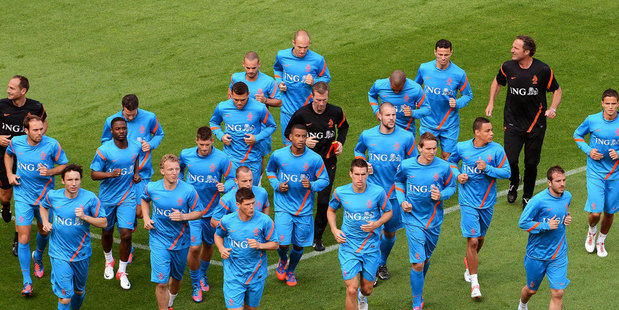 The European Championship suffered its first racism controversy today after a number of black players in the Holland squad were racially abused during a training run at Stadion Miejski in Poland.
The Guardian reported that Nigel de Jong and Gregory van der Wiel were targeted with monkey noises and loud jeers from sections of the 25,000 spectators who turned out to watch the Dutch team train.
The English side is set to train at the same venue tomorrow.
Dutch captain Mark van Bommel responded to the jeers by moving the sides training drills to the other side of the ground.
"It is a real disgrace especially after getting back from Auschwitz [the Dutch squad had visited the concentration camp on Wednesday] that you are confronted with this," Van Bommel said.
"We will take it up with Uefa and if it happens at a match we will talk to the referee and ask him to take us off the field."
The problems occurred as the players began the session by jogging a lap of the pitch only to be greeted at one end of the stadium with monkey noises and loud jeers. On the second circuit, they were even louder and it was then the players decided not to go around again.
"At least now we know what we can encounter," the Holland coach, Bert van Marwijk, said with heavy cynicism. "Very atmospheric."
Uefa subsequently tried to deny that it was racially motivated, saying they had checked with the Dutch squad and had been told it was not thought to be of that nature.
Instead, the official line is that a small part of the crowd was protesting about the fact that Krakow had not been made one of the host cities. Another theory that has been put forward is that Wisla's supporters did not want their stadium being used by anyone but their own club and were simply booing the Dutch players.
Van Bommel, however, responded angrily when it was put to him not everyone had heard monkey noises. "You need to open your ears," he said. "If you did hear it, and don't want to hear it, that is even worse."
- HERALD ONLINE