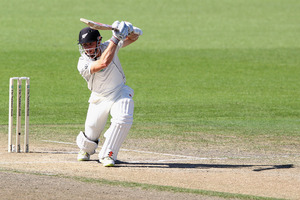 Kane Williamson's decision to play county cricket for Gloucestershire may pay dividends in the test arena. Photo / Getty Images
Put those pie charts to one side for a moment. Another curious New Zealand cricket experiment is unfolding ahead of the West Indies tour starting late next month.
Depending on how seriously New Zealand want to progress their test cricket - they're currently ranked eighth in the world to the West Indies' seventh - they should decide whether the county circuit or the Indian Premier League is better preparation for the two Twenty20s, five one-day internationals and two-test series starting on July 25 at Sir Vivian Richards Stadium, Antigua.
Plenty of lip service is invested at present extolling the virtues of the first-class game. However, players inevitably choose the financial security of the IPL. That is a practical, sensible decision for them but somewhat lacking the romance of wrapping yourself in a long-sleeved pullover, freezing your mitts off and striding on to England's quaint and picturesque county grounds in April and May to master your first-class trade. That's why it was such a refreshing change when Kane Williamson and Martin Guptill - young men without dependents - decided to play division two English county cricket rather than putting their names up for the IPL auction.
The likelihood is they would not have been picked for IPL but their decision was as worthwhile as it was quickly made.
As of Friday, Williamson had racked up 271 runs at 67.75 in four innings, including two centuries for Gloucestershire.
Guptill had compiled 471 runs in 11 innings at 47.1 for Derbyshire, who are top of the second division table. He had also made two tons.
The pair are now challenged with translating that form into the test arena to prove the discipline engendered playing the longer form day-in, day-out has benefits.
Compare that to others in the prospective test squad who have played only shorter form cricket since South Africa left in March. They also have to prove that success comes down to mindset and confidence rather than format.
Brendon McCullum will be rested from New Zealand's limited overs matches, having averaged 24.08 in 12 IPL innings with a strike rate of 102 to help Kolkata into tonight's final.
Ross Taylor had a mediocre series by his standards for Delhi, averaging 19.22 and striking at 110 in 11 matches, while team-mate Doug Bracewell had one stellar cameo, taking three for 32 (dismissing Indian batsman Virat Kohli and two tailenders against Daniel Vettori's Bangalore). Vettori's batting was rarely sighted but his short format bowling was miserly (economy rate 6.71). However, his ability to take wickets remains an issue with just five wickets at 47 and a strike rate of one wicket every seven overs.
Perhaps the two best-performed New Zealanders in the IPL, James Franklin and Jesse Ryder, will take no part in the West Indies tour.
Franklin helped take Mumbai to the first elimination final with an average of 24.44 and strike rate of 138 in 12 games. He'll be perfecting his T20 game for Essex before the World Twenty20 in September.
Ryder's Pune exited early but he still averaged 25.6 at a strike rate of 121 in 11 games. He remains out of national favour because of a scroll of past indiscretions.