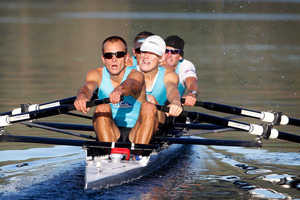 New Zealand's lightweight rowing four are still in the hunt for a place in London after progressing to the final of the Last Chance Regatta at Lucerne, Switzerland, overnight (NZT).
The Kiwi crew needed to finish in the top two of their repechage to qualify for the final and now need to finish in the top two in the final to qualify for the Olympics.
It will be a tall order for the crew of Curtis Rapley, Graham Oberlin Brown, James Lassche and Duncan Grant against the US, Serbia, the Netherlands, Spain and Brazil.
New Zealand finished more than two seconds behind the US today and Serbia and the Netherlands looked good in the heats, putting more than seven seconds on the New Zealand foursome.
The men's eight have an even tougher road to London, needing to win to qualify for the Olympics.
They finished a massive eight seconds behind the US in the heat, which was effectively a race to determine lanes for the final. The Americans have raced in the men's eight at every Olympics and don't want that tradition to change in London.
The regatta concludes tonight (NZT).

- APNZ