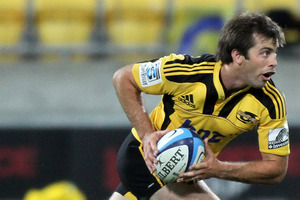 The Chiefs are lacking a decent brass section to blow their trumpet but that didn't stop the Hurricanes leaving Hamilton mightily impressed by what they had seen on Saturday.
"They're a quality side," said Hurricanes skipper Conrad Smith, contemplating his side's 14-33 defeat. "They'll beat a lot more teams over the rest of the year; they'll be in the mix come playoff time.
"They're playing as a team, that's the best thing about them. They've got some quality individuals directing the game and they've got a No 10 that's playing really well. They've got some game-breakers there and they keep things pretty simple.
"They're not trying to reinvent the game of footy; they just do the simple things and do it really well."
Super 15's feel-good story got that little bit feelier in the "Tron" on Saturday night, with 22,119 fans proving the maxim that if you build it, they will come.
The Chiefs have built it: a team who are willing to work hard for each other, trusts in their game plan and are prepared to dig deep into the bag marked grit and determination when things aren't falling their way.
The folk in the region have responded with their feet. Waikato Stadium was as vibrant as Eden Park had been desolate 24 hours earlier. The pity of it is they will have to wait until May 25 for them to return.
"It certainly helps," captain Craig Clarke said of support. "When we were starting to make inroads through the middle and guys were carrying well, you could hear the cowbells ringing.
"When Sona scored, geez it was loud - it makes a difference."
So common these days it barely warrants a mention but, yes, Sona Taumalolo scored - his seventh five-pointer of the competition. Reserve loosehead prop Toby Smith also got one, making prop the position to play if you want to score for the Chiefs.
The travelling show shifts north to Pukekohe on Saturday where John Mitchell's hapless Lions lie in wait. A tricky trip to Brisbane precedes a bye before the Bulls visit Hamilton.
"The attitude was fantastic," coach Dave Rennie said. "There was a lot of talk about coming back from Africa and the hard three weeks we'd had over there, but we didn't really discuss it as a group.
"I knew the attitude was going to be important tonight and we got that in bucketloads from the starting group and the guys off the bench."
Attitude is hard to quantify but if there was a time they needed it, it was in the moments either side of the break. Despite dominating most aspects of the first half, a couple of basic errors from the returning Brendon Leonard handed the Hurricanes rare field position and Andre Taylor capitalised by scoring the sort of magical try he know specialises in.
It brought the visitors back into the game and for a while they looked as if they had solved the Chiefs' riddle.
"At halftime the game was tight but we felt we had a fair bit of ascendancy and if we could hang on to the ball and build some pressure we'd get a few more points from it," Rennie said.
Pulling the strings adroitly again was first five-eighths Aaron Cruden. It's a given that when the first All Black team of the year is named to face Ireland, Dan Carter will reclaim his No 10 jersey, but Cruden could have done no more to announce his readiness.
Whether it's goalkicking, punting out of hand or picking his moments to run, Cruden is doing a lot more right than wrong.
That's eight in a row for the Chiefs, which makes it their second-most-successful season in wins.