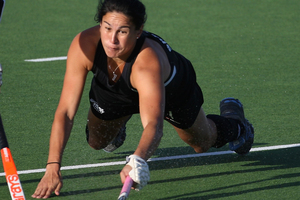 New Zealand 3
India 3
The ground announcer put it succinctly when he simply said "oops".
Somehow the New Zealand women's hockey team found a way to blow a 2-0 lead against lowly India at the four nations hockey tournament in Auckland and had to rely on a late goal to salvage even a draw.
Admittedly the game had nothing riding on it after Australia thrashed the US 5-1 in the early game to ensure tomorrow's final of the second four nations tournament would once again be between the transtasman rivals. New Zealand won the final of the first instalment 3-2 over Australia.
But it was a continuation of a series of poor performances that saw coach Mark Hager uncharacteristically gather his players for a post-game 'chat'. There was only one person doing the talking.
"We are in the final, that's a plus," Hager said phlegmatically. "But I am disappointed. At the moment we can't punish teams. We get 2-0 up and we lose structure and shape. Again we came out thinking it was going to happen rather than making it happen.
"We have to learn from these experiences. We are a great team and we fight back fantastically but I'm sick of fighting back. We have to get in front and win from in front."
It looked like they would do that comfortably when they jumped out to a 2-0 lead inside 10 minutes after goals to Katie Glynn and Cathryn Finlayson. They were completely dominant as they camped inside India's half but instead of putting the throttle down eased off and left India back into the game.
They became sloppy, often giving the ball away in bad areas, and were punished when Rani scored in the 15th minute. It set the tone for the rest of the match as they lost shape and structure and India scored two goals in as many minutes in the second half to take a 3-2 lead.
New Zealand's blushes were saved when Krystal Forgesson scored with only three minutes remaining after a good run from Gemma Flynn.
India, who are ranked 13th in the world to New Zealand's six, played well - the best in either tournament - but the Black Sticks will meet infinitely better sides at this year's Olympics and time is running out.
One of them is Australia who are also also in New Zealand's pool at the London Games. They want revenge for their defeat in the final of the first four nations tournament and the Black Sticks desperately need to re-find their spark if they are to stop that happening.
New Zealand 3 (Katie Glynn, Cathryn Finlayson, Krystal Forgesson) India 3 (Rani, Vandana Katariya, Chanchan Thokchom). HT: 2-1.
- APNZ