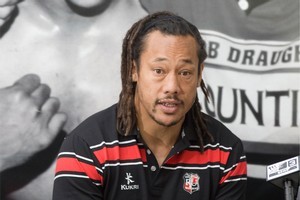 The Tana Umaga coaching era at Counties Manukau shapes up as a brief one, with the former All Black great shortlisted to take over at Irish giants Munster.
Umaga is one of a select group interviewed to take over from incumbent Tony McGahan, who is leaving to take up a role with the Australian Rugby Union.
Several sources confirmed Munster's interest.
Four-time NPC-winning coach Rob Penney is also a contender, as well as current assistant coach and former Ireland and Munster flanker Anthony "Axel" Foley.
Penney did not return calls from the Herald.
While Foley's Munster credentials - he played more than 200 games for the province - would appear to give him the edge, it's believed Munster would still be keen to attain Umaga's services as an assistant with responsibility for the backs.
Last night Umaga's manager, Glenda Hughes, said: "Tana is fully committed to Counties Manukau for 2012. He has no further comment to make".
Counties Manukau chief executive Andrew Maddock said Umaga was contracted only through to the end of the 2012 ITM Cup.
"We're pretty keen to have him beyond that of course," Maddock said, "but I guess having someone like him on the team, they do often go for short-term contracts because they are potentially in high demand. We can't stand in the way of that."
The ITM Cup overlaps with the start of the 2012-13 European season. If Umaga were offered the job it would require either an interim coach at Munster - unpalatable you'd think to a club which has annual Heineken Cup aspirations - or an early release from Counties.
Maddock said any decision over an early release would have to be taken in conjunction with the board.
"Coach appointments are generally made by the CEO and the board, but we'd just have to deal with that as it arises," he said. "He's served us well for the two and a half years he's been with us so far, so if he did decide this was a step up and it was pursuing his dream and ambition, I guess he would go with our blessing.
"Though we certainly don't want to lose him. It's a two-fold message."
Umaga has received wide praise for his work with the Counties young side since joining forces with Milton Haig. Earlier this year it was announced Haig would take charge of the Georgian national team.
Umaga might be a brave choice for the Limerick-based team. There's still some baggage surrounding him in the Emerald Isle after the role he played in Lions captain Brian O'Driscoll being invalided out of the tour to New Zealand in 2005.