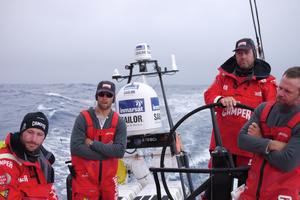 Camper Team New Zealand's urgent repairs are on track with the Volvo Ocean Race crew hoping to resume racing tomorrow afternoon.
Camper's currently working on the replacement bulkhead on the boat's hull with that process expected to be completed in the coming hours.
They'll then move onto the final stages of repair which are expected to take 24 hours.
If the work goes to schedule, they're hoping to leave Chile tomorrow.
On the water, Puma Ocean Racing holds a 19 nautical mile lead from overall race leader Telefonica with the pair under 300 nautical miles to port in Brazil.