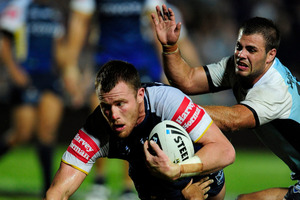 Dumped five-eighths Wade Graham believes his new role as a utility off the Cronulla bench has given the Sharks a new dimension in attack and could be a sneak peek at the future, as the 21-year-old looks to take over Paul Gallen's lock position full-time.
After spending his entire NRL career in the halves, Graham packed down at lock in the Sharks' wins over Manly and North Queensland, pushing skipper Gallen into the front row, where he has had enormous success, to cover the loss of prop Bryce Gibbs (thumb).
Gibbs has been named to face the Panthers at Penrith tonight, forcing Graham back to the bench in a role where he will come on and play lock while Gallen plays tighter.
Graham says the move has given his game a new sense of freedom, and the Sharks a new element in attack as Todd Carney and Jeff Robson run the show in the halves.
"[Coach Shane Flanagan] has been really good there, he hasn't restricted me in how I should play," Graham said. "He's just let me go out there and play footy.
"It's going to be a work in progress how I develop in that role while I'm playing there, and obviously the more games we play and if we get some good dry weather football we might be able to develop a few things.
"But it's been a breath of fresh air and I'm enjoying the change."
So far Flanagan has been hesitant to move Gallen into the front row on a permanent basis, saying it is not a topic he will revisit for at least another 12 months - but that process may be sped up if Graham's inclusion at lock, playing a second five-eighth's role, continues to reap rewards.
"That's the long-term plan. But it's a work in progress. Obviously I'm not going to jump straight in there and start producing this and that, but I'm certainly liking it and I'm liking the freedom that's there," Graham said.
- AAP