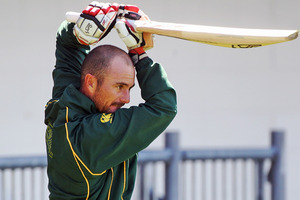 Central Districts wicketkeeper Kruger van Wyk will make his test debut for New Zealand against South Africa at Dunedin tomorrow.
Van Wyk, who was born in South Africa, got a late call in when first choice wicketkeeper BJ Watling was ruled out with a hip injury at the end of New Zealand's training session this morning.
It's a blow for Watling who scored his maiden test century in New Zealand's last test against Zimbabwe in January, making 102 not out in the Black Caps' first innings.
Van Wyk played several seasons of first class cricket with and against several members of the South Africa team, including fast bowling aces Dale Steyn and Morne Morkel.
The 32-year-old right hander has been the one of the leading runs scorer in domestic first class cricket this summer - amassing 638 runs in 11 innings at an average of 91.14.
He heads into his test debut having scored six first class centuries and 26 half centuries during his career.
Meanwhile Brendon McCullum looks set to move down the order for tomorrow's test.
With Rob Nicol in line to make his test debut, McCullum looks likely to drop down a spot after opening the innings for the last nine tests.
McCullum averages 45.13 opening the batting, having scored a double century and five 50s in 17 innings, compared to his career average of 36.32.
With Nicol being added to the squad assistant coach Trent Woodhill told Radiosport it makes sense to move McCullum down to three.
"He wouldn't drop any further than three. We'll look at that. Brendon scored a double hundred against India opening the batting. He's had success opening the batting in test cricket and is probably our most consistent player over a 12 month period batting at one," Woodhill said.
"But with Rob coming into the setup and the team, he's an opener, he likes the new ball and Guptill's obviously done well there. Brendon's shown a real maturity and leadership at number three and if Wrighty (John Wright) and Ross (Taylor) feel that's the best way to go then I think it can only be a positive for the team."
McCullum has batted at first drop on five occasions for the Black Caps, all in England during the 2004 and 2008 tours which included a 96 at Lord's in just his fourth test.
Woodhill said the move shouldn't affect McCullum's form.
"I think Brendon realises test batsmen who bat at three are usually the best player in the team, history suggests that. He's a one, two or three and he's going to do the right thing by the team. He's going to lead whether he's captain, vice-captain or part of the XI.
"Brendon with his batting at the moment, especially in that one-day series, he's showing us the next three or four years are going to be an exciting time for him and New Zealand cricket."
Woodhill also said that the side will likely head into the first test with four quick bowlers after finding success with that strategy in the last two matches against Zimbabwe and Australia.
- Additional reporting by Herald online staff