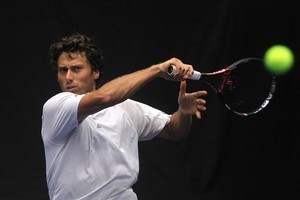 New Zealand has lost its Asia/Oceania Group I Round I Davis Cup tie against Uzbekistan 3-2 after winning the final singles matches.
The home team won the two 'dead' reverse singles matches at the TECT Arena indoors in Tauranga today after giving its regular singles players a rest.
Uzbekistan had already won the tie 3-0 going into the final days play where both team captains substituted in players to give them game time.
In the first reverse singles match Artem Sitak played for New Zealand against Uzbek Murad Inoyatov and easily took the first set 6-2, however he dropped the second set, almost as straightforwardly 3-6.
In the final set Sitak was too consistent, winning 6-3.
Dan King-Turner then played the final clash against Sarvar Ikramov and duly won the first set 6-4, but dropped the second by the same score.
In the final set he managed a vital break to win 6-3, his first singles match for New Zealand in Davis Cup for nearly 18 months.
New Zealand non-playing captain, Marcel Vos gave credit to the Uzbeks and said at least it gave a couple of extra players some time on court.
"It was the same as last year, (in Uzbekistan) where we lost 3-2. We got a little bit of pride back today winning two matches. We came up against a stronger team and they deserved to win overall. You got to give these guys some match practice. It's good to have Dan back on the team after a long injury layoff. I think the singles match here will help him later down the track," said Vos.
The Kiwis will now play the winner of China or Taipei away in September.