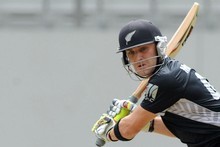 At 7.30am yesterday Brendan Taylor was at the University Oval nets.
It says plenty for his dedication to his batting craft that having a session before heading for breakfast is de rigeur for Zimbabwe's captain.
"I like to hit a lot of balls before each game, then I know I've gone out and prepared as well as I can," said Taylor, who had a successful stint with Wellington in the HRV Cup last month.
It also helps explain why he is his team's key batsman and when the three-game ODI series starts against New Zealand today, much of Zimbabwe's hopes of being really competitive with their hosts will depend on Taylor's ability to inspire his batsmen to push New Zealand's bowlers.
Having had a horror test in Napier, Zimbabwe are now entering the form of cricket they feel best suited to, and in which they've had most of their best moments in the international game.
"We always talk positive and prepare as positively as we can," Taylor said.
"In the one-dayers we like to express ourselves and tomorrow we'll come out and put everything behind us and focus on the next three games."
"Everything" being the shellacking at Napier last weekend.
For New Zealand the task on what is a hard, grassy strip with a bowl-first look is maintaining a ruthless streak, winning strongly and over the coming days keeping momentum going with a squad which includes four players yet to pull on a black cap.
Two of them, batsman Tom Latham and allrounder Andrew Ellis, will play today; the other two, seamer Michael Bates and legspinner Tarun Nethula, have been left out.
Latham and Ellis will get a chance to perform in roles where their form for Canterbury has earned them selection. Latham will bat around No 5; Ellis will bat about No 8 and bowl overs in the middle of the Zimbabwe innings.
"We'll try and utilise the less experienced players in positions they've been picked for," Brendon McCullum said yesterday.
He will drop to No 3, leaving Martin Guptill and Rob Nicol to open. One of the seamers among a pile of bowling options is likely to be omitted this morning.
McCullum, chuffed to be captaining his country in Ross Taylor's absence in his home city, went through a checklist of ambitions for the series yesterday.
"We want to tick off some areas, learn more about this team and continue the ruthless attitude the test team has shown of late," he said.
He expects Zimbabwe will present a tougher challenge in the 50-over format than the test "but if we execute in the areas we need to, our skill level should be too high".
It's just the second ODI at University Oval, after a five-wicket win over Bangladesh two years ago. The fear for those who like some quantity to their 100-over contests is that if Zimbabwe bat first, without a vast improvement it could be an early finish.
Offspinner Prosper Utseya and left-arm spin veteran Ray Price are tipped to play. These are not ideal spin conditions but they've been tidy operators for Zimbabwe.
The visitors can hold on to one undeniable fact; when the teams last met in an ODI, Zimbabwe won in the final over, overtaking New Zealand's 328 at Bulawayo in November.
Taylor confirmed that's been raised in pre-game team sessions. It may sound like clinging to any remotely positive element, but in the circumstances it's also understandable.
NZ V ZIMBABWE
University Oval, Dunedin, 11am today
New Zealand:
(from) Brendon McCullum (c), Martin Guptill, Rob Nicol, Kane Williamson, Tom Latham, Dean Brownlie, Jacob Oram, Nathan McCullum, Andrew Ellis, Doug Bracewell, Kyle Mills, Tim Southee.
Zimbabwe:
(from) Brendan Taylor (c), Hamilton Mazakadza, Tino Mawoyo, Forster Mutizwa, Stuart Matsikenyeri, Tatenda Taibu, Regis Chakabva, Malcolm Waller, Elton Chigumbura, Shingirai Mazakadza, Keegan Meth, Prosper Utseya, Ray Price, Kyle Jarvis, Brian Vitori.
By David Leggat

Email

David