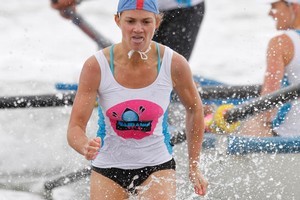 The outstanding Mairangi Bay open women's crew have come back to the beach with a thud after a trouble-laden second round of the New Zealand Surf Boat Series at Whangamata yesterday.
The national champion crew had not lost a heat, semi or final in its division at any carnival so far this season.
But they were unable to maintain their outstanding record in two races, which included the final, at Whangamata.
Mairangi Bay led the final until the closing stages on the row home with a desperate effort to chat a wave just outside the break.
"That's surf - that's about all you can say," said Nina Reid, Mairangi Bay's second stroke. "We got a runner ahead of everyone else and worked bloody hard to get on it but there was just a little bit too much wind to pull down it and we fell off the back of it.
"Orewa caught the wave behind and by the time the wave reached us, it was standing up really steep, we started steering on the nose and broached."

Orewa hit their straps on the day, winning all their heats and coming second in their semifinal.
"The girls rowed really well coming home and put a massive effort in and it was great to pull that wave down," said Mark McCarthy, the Orewa sweep.
"Mairangi Bay had a pretty good lead but that's what surf can do - you need that little bit of luck."