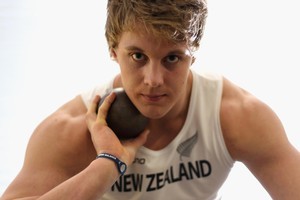 Sixteen year old Shot Putter Jacko Gill set a new National Record and surpassed the London Olympic Games selection standard with a throw of 20.38 metres at Sovereign Stadium's North Shore this evening.
The throw came on the first round of the competition at Sovereign Stadium on Auckland's North Shore.
Gill added 37 centimetres to the national record he set in April this year. The performance is also a new World's best for athletes aged 16 and 17.
Gill was too young to compete at this year's World Championships in Daegu, Korea, but with tonight's performance, he would have qualified for the final and placed 8th overall.

New Zealand's second best Shot Putter Tomas Walsh, from Timaru, who is also still a junior set a personal best of 18.83 metres in the competition.
- Herald online