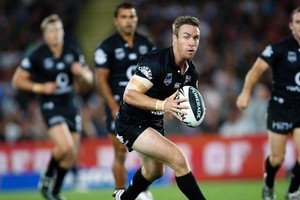 When it looks like a dog, walks like a dog and barks like a dog it quite often turns out to be a dog. So it was with the Warriors' failure to negotiate a contract extension with James Maloney, the boom Aussie playmaker who confirmed yesterday he would not be staying in Auckland beyond next season.
Suggestions Maloney favoured a return to Australia for family reasons had been circulating since the Warriors opened negotiations over a potential extension in May.
"There was a lot to weigh-up," Maloney told the Herald yesterday. "Myself and the family, we think we've done what's best for us."
With an infant son and a second child on the way, the chance to relocate closer to extended family was a big factor in his decision. "That was definitely a big part of it," he said. "It will all come out [today]. I've got no dramas with the club, I'm happy to be here for next year and I will continue enjoying my time over here."
Maloney's destination will likely be confirmed in Sydney today. While he has been strongly linked to Russell Crowe's South Sydney, recent reports out of Australia have claimed the Roosters secured his signature on a three-year deal earlier this week.
The Warriors' recent capture of Wigan playmaker Thomas Leuluai has softened the blow of losing Maloney.
Coach Brian McClennan confirmed Leuluai had been signed in knowledge retaining Maloney had become a lost cause.
"He'd been talking about it for a while, his desire to go back," McClennan said. "It was fairly common knowledge."
McClennan doesn't expect to have any issues with Maloney playing out a season before his departure, although he said the situation would be managed closely.
"It's how you appreciate what you've got there and then," he said. "I can't see any problems. Jimmy is so competitive and so are the rest of us. By the time it comes to the end of 2012 we all want to be able to look back and say 'this was a great year'."
Maloney insisted he would do everything he could to better this year's run to the grand final in his third and final season at the club.
"We've definitely got the squad to do it, it's a matter of knuckling down and making sure we use that as a bit of an incentive," he said.
"One of the main things I wanted to do was get [this decision] out of the way over the off-season so it wasn't hanging around. It's done and dusted and business as usual for me."
The Warriors had done everything possible to retain a player who has been a key figure in the turnaround following a disastrous 2009 campaign, however their best offer had ultimately been rejected, recruitment manager Dean Bell said.
"We did all we could to try to keep James but he made it clear family issues were the big factor in his decision," Bell said.
"Obviously he attracted a lot of interest and he'll go with our best wishes once the 2012 season is over."
Maloney joined the Warriors after stints with Parramatta and Melbourne. He failed to win first-grade selection with the Eels and was used only four times by the Storm in 2009. He immediately became the first-choice five-eighth at Mt Smart Stadium, playing 24 of the club's 25 matches in 2010 and 27 out of 28 this year. A fierce competitor, he was the most penalised player in the game in 2010. The only two games he has missed while at the club were due to suspensions.
A prolific scorer, he racked up 188 points in his debut season and 206 this year, a total of 394 points in 51 games that includes 20 tries.
"I owe so much to the Warriors," he said. "They signed me when I had played only a few first-grade games and gave me the opportunity to establish myself in the NRL and to play in the grand final this year."