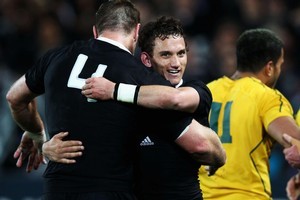 Are we tempting fate ... again?
Auckland Council chiefs are quietly planning a Rugby World Cup victory parade for the All Blacks, bringing back haunting memories of the last one planned - just before New Zealand was knocked out of the 2007 World Cup by France.
The All Blacks' crushing defeat of the Wallabies on Sunday has positioned them as favourites against a France team who have shown little potential to stage an upset.
The Herald understands the council and the New Zealand Rugby Union have been in talks to organise a ticker-tape parade up Queen St on Wednesday or Thursday next week.
But the idea has sparked warnings not to allow overconfidence to seep into the nation's psyche.
TV commentator Keith Quinn said, "Let me quote a line from William Shakespeare: 'We must not run before our horse to the market.'
"That is the feeling I have when thinking about New Zealand and the Rugby World Cup.
"Those of us who are self-appointed historians ... remember the 1999 and 2007 games against France.
"It was almost as if the fans couldn't believe they would lose."
Overconfidence could affect everyone in New Zealand, he said.
"Being overconfident could seep into the bones, into the psyche, of the nation and even the All Blacks."
Following the 20-6 win over Australia, fans partied long into the night. NewstalkZB played the Queen song We are the Champions.
A welcome home victory parade was planned during the 1999 cup. Auckland councillors were still arguing over who would foot the bill when the All Blacks lost their semifinal against France.
And it is again the French they will face at Eden Park on Sunday.
Those involved in planning a parade were reluctant to talk last night.
NZRU spokeswoman Julie Clausen said: "Our focus is on winning at the moment. It would be really premature to be talking about any victory activities."
An Auckland Council spokeswoman said: "We aren't commenting on that."
But a post-cup party is planned for Auckland Domain on Monday.
Organisers of the celebratory Labour Day festival, Kiwi Day Out - backed by Fonterra - say it will happen regardless of whether the All Blacks win the Webb Ellis Cup.
SMC Events chief executive Dave Mee said the day was not a pre-emptive party for All Black success, but a celebration of all teams in the World Cup.
"It's not a premature celebration [plan]. Obviously, we're hoping that is how it happens but it doesn't have any bearing on how it works out."
However, some say fears of a jinx are misplaced. Comedian Ben Hurley said New Zealanders had started to relax their superstitions about the cup.
"A lot of people have had their fingers in their ears going 'La, la, La' anytime anyone has mentioned us winning so as not to jinx it, but that might have finished now."
Overconfidence was not a problem as the All Blacks had already won their hardest match, Hurley said.
"In saying that, it's going to be really embarrassing if you bake a cake saying, 'We won', and take it to a pre-final winning party and then we lose. That's probably going too far."