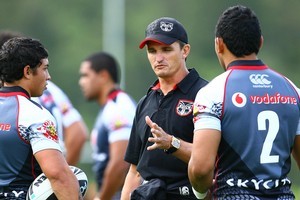 Ivan Cleary isn't particularly demonstrative at the best of times, preferring to keep his emotions in check, and he's not ready to get nostalgic about the fact that he will be in charge of the Warriors for the last time at Mt Smart Stadium on Saturday night.
The final-round match against the Cowboys is Cleary's 150th NRL game since his appointment as Warriors coach at the start of the 2006 season. How many more he adds is entirely up to his players. Next weekend the Warriors begin their playoffs journey. As soon as they finish, so too does Cleary before he sets off to take up his new role as Panthers coach for the 2012 season, and how far they progress could help define Cleary's Warriors legacy.
Saturday will be a night of farewells on many levels for the club. Afterwards, special presentations will be made to Cleary along with departing players including Lance Hohaia, Aaron Heremaia, Shaun Berrigan, Joel Moon, Brett Seymour and Jeremy Latimore. The match will also mark the first time centre Brent Tate returns to Mt Smart since leaving to join the Cowboys in 2010.
The Warriors have a slim chance of securing a home playoffs match - they could finish anywhere from fourth to seventh in the final wash-up - and that's what Cleary is targeting.
"I'm just desperate to get another one [at home]," he said. "There will be time to be nostalgic. It's probably not now just yet. I'm looking forward to enjoying the game in the weekend and having a win."
It would help the Warriors' cause if they did. Although they are likely to finish sixth or seventh regardless of other results, it will be important to head into the playoffs on the back of a confidence-building win. They have won six of their last eight games but a defeat to the Cowboys would mean two in a row after their narrow 26-22 defeat to the Dragons last weekend.
"I'm not worried about where we will be [on the table after the weekend]," Cleary said.
"It will probably be six or seven. The big thing is winning that first week and to have confidence going into that on the back of a win is the first place to start."
They will need to do it on Saturday without hooker Heremaia, who is out with a hand injury. His place is taken by Alehana Mara. Bullocking second-rower Ukuma Ta'ai also comes into the squad at the expense of Elijah Taylor after Ta'ai served a two-match ban.
- APNZ