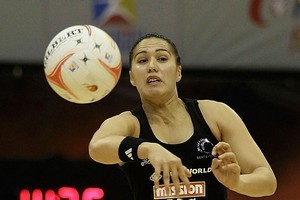 It is not quite a crisis but the retirement of Temepara George has left the Silver Ferns looking vulnerable in the middle of the court.
George departed the international game last week and coach Ruth Aitken's options appear decidedly thin.
Heir apparent Liana Leota had a poor season with the Steel and took that form to the world championships in Singapore, failing to win the confidence of the coaching staff who didn't use her in the big matches.
Before her injury, Grace Rasmussen was one of the form wings in the ANZ Championship but the Mystics player will be sidelined until 2012. Camilla Lees is raw and uncapped, while Anna Thompson has potential further out but still prefers to be in the circle.
"It is definitely going to be a test," says former Silver Ferns coach Yvonne Willering.
"Temepara has been a wonderful player who leads by example and sometimes others have been reliant on her. Now it is time for those players to step up."
Willering also expects the Ferns to take a different strategic tack, by asking the wing defence to work more in possession and take some of the load off the wing attack.
Leota (nee Barrett-Chase) starred in her debut international year in 2008, impressed off the bench at last year's Delhi Commonwealth Games and was voted ANZ Championship MVP in 2010.
But the 26-year-old has lost her mojo somewhat in 2011 and it seems a stretch to imagine her performing for full matches against the Diamonds.
"She has all the ability," says Willering, "now it is a great opportunity for her to show what she is made of. I'm confident she can deliver."
Netball New Zealand have seemingly adopted a policy in recent years of converting goal attacks to wing attacks. Think of Rasmussen and Thompson; newly-capped Juliana Naoupu may well be next.
The idea has merits; as shooters, they have great empathy for what the players in the circle need from their feeders, while the presence of Maria Tutaia means the chances of snaring that Ferns GA bib in the near future are extremely thin.
But it is also risky and a potentially difficult adjustment for players in terms of movement, passing, vision and involvement.
"It is a very specific role," says former Ferns captain and long time wing attack Adine Wilson, "and the movements are quite different to anyone else on court.
"Not only are you supposed to be the dominant feeder - with the centre playing more of a linking role - but you also are constantly moving laterally, as well as up and down the court. You have to be confident; that ball is coming to you off just about every centre pass."
Across the Tasman, the new Australian coach will have seemingly limitless options from a pool of proven performers at wing attack.
Kim Green and Chelsea Pitman impressed in Singapore, while Madison Browne and Lauren Nourse (currently injured) are other possibilities and Natalie von Bertouch is also accomplished in the position.