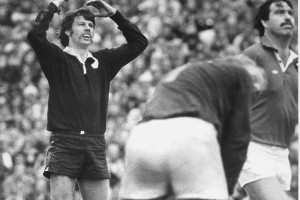 In almost 110 years of history the All Blacks of carved out a long list of memorable moments, here are some of the best...and worst.
Memorable moments:
Brian McKechnie saves the day
Brian McKechnie didn't muck around when called on to kick one of the most important penalties in All Black history...
When Fitzy's Incomparables cracked code
The relief and euphoria was palpable. All Black skipper Sean Fitzpatrick thumped Loftus Versfeld pitch with his fist, Robin Brooke kissed the turf and veteran teammates jumped for joy...
Triumphant last gasps
Andy Dalton, Allan Hewson and Doug Howlett all left it late to provide some great wins over the years...


Playing through the pain
All Blacks will do anything to stay on the field as there is always someone on the sideline waiting to take your spot...
Shock loss put NZ side in their place
It was the moment that sent many New Zealand rugby fans into a dark place and put a massively hyped All Black team in their place...
Famous Kiwis share their greatest All Black moments
Famous New Zealanders share their greatest All Blacks moments...