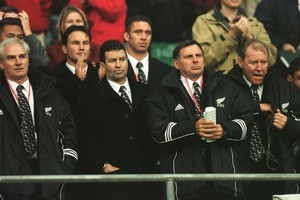 It was the moment that sent many New Zealand rugby fans into a dark place and put a massively hyped All Black team in their place.
A French side - largely written off before the 1999 World Cup semifinal - had come back and steamrolled a panicked All Black side.
The French erased a 14-point deficit early in the second half to win by 43-31.
It meant desolation for the vanquished coaches and players and delight for the French whose feat was described in the British media as the greatest upset in rugby history.
Only six All Blacks - Jonah Lomu prominent among them - stuck around to applaud and shake hands with the French team as they left Twickenham and the public response in New Zealand was worse.
Coach John Hart's racehorse was targeted, sports talkback was awash with bitterness about the All Black sellout to corporate interests, a prominent rugby administrator copped an ear-bashing in central Auckland, diehard fans swore off the team.
They were bleak days.
Hart still feels the pain of the defeat - and the reaction.
He felt it the day he arrived home and went to see his horse run in the New Zealand Trotting Cup at Addington.
"They spat at me and threw cans of beer at my horse."
Hart had quit immediately as coach and regretted making the trip to Christchurch to support Holmes D G.
"That was one of the worst decisions I've made, it was a sad day. That affected me for a long while. We absolutely lost our way and turned in on ourselves."
The game was lost during 30 minutes of French dominance in the second half.
In that time the All Blacks forgot the game plan and succumbed to French niggle and gouging.
Speaking after the match Hart said the dubious French tactics weren't an excuse.
"Players who normally don't make mistakes made them today."
He described the atmosphere in the dressing room.
"It was absolute devastation. I've seen some disappointments but this is the biggest."
Memorable moments:
Brian McKechnie saves the day
When Fitzy's Incomparables cracked code
Triumphant last gasps
Playing through the pain
Shock loss put NZ side in their place
Famous Kiwis share their greatest All Black moments