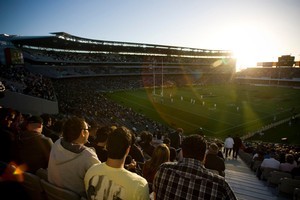 New Zealanders care more about Rugby World Cup visitors having a good time than the All Blacks winning the trophy, a poll has found.
The Herald-DigiPoll survey of 750 people last week found that 59.2 per cent rated visitors' experiences more important than an All Blacks triumph (36.6 per cent).
The poll asked: "Which of these possible outcomes is more important to you?"
Respondents were given three choices: the All Blacks winning the cup, the visitors having a great time in New Zealand, or don't know.
Tournament boss Martin Snedden said he would have expected the poll to produce the opposite result.
"It's natural for New Zealand ... If you gave people the opportunity to choose both, I think you would get another twist," he said.
Mr Snedden has said that although the All Blacks would have another chance of winning the World Cup in four years, New Zealand might not have the opportunity to host the tournament again.
And most of the expected visitors during the tournament "don't give a toss" if the hosts won, he told an Australian newspaper, the Eden Magnet, last month.
Yesterday, Mr Snedden said the most important thing was for New Zealanders to maintain a positive attitude towards the tournament and its visitors.
"Within that atmosphere there's nothing wrong with New Zealanders backing the All Blacks to the hilt."
Last month, he said the Real NZ nationwide festival being held in parallel to the World Cup would engage visitors and locals as much as - if not more than - the rugby.
More than 500 festival events will be held around the country in September and October.
Festival director Briony Ellis said New Zealanders were starting to realise that the World Cup was an unmatched opportunity to showcase the country.
"That's what it's all about. New Zealanders want to show the world what we have."
THE CHOICES
When the Rugby World Cup takes place in New Zealand this year, which of these possible outcomes is more important to you?
* The All Blacks winning the Cup - 36.6 per cent
* That the visitors have a great time in New Zealand - 59.2 per cent
* Don't know: 4.2 per cent
* Margin of error: 3.6 per cent