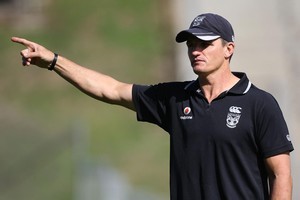 One is the incumbent who is doing a good enough job that his head is being hunted; one is being groomed to take over; one is a Kiwi supercoach who holds a near-mythical status with fans. One of Ivan Cleary, Tony Iro or Brian "Bluey" McClennan will be head coach of the Warriors in 2013. But which one?
Believe the rumour mill and it's really a two-horse race. Cleary, by a growing number of entirely unsubstantiated accounts, is already measuring up an office next to Phil Gould's at Penrith next season.
Such a scenario would not only remove one of the contenders, but bump up the timetable for a replacement.
Both the Warriors and Cleary, though, are adamant he will at least see out a contract that expires on October 31 next year.
Warriors chief executive Wayne Scurrah is also adamant the club will not accelerate the timetable for discussing an extension.
Cleary's contract will be reviewed as planned at the end of the season.
"Ivan knows where he is," Scurrah said.
"He has indicated a desire to at least see out his current contract and we've also agreed the process for extending him. And, to be frank, just because somebody approaches someone doesn't mean you have to increase their pay or term."
For his part, Cleary has indicated any decision to leave the Warriors won't be taken lightly. He has spent 10 of the last 12 years working for the club as either a coach or player and his family is settled in Auckland.
"Half [my] house speaks with a Kiwi accent," he said.
With the Warriors building nicely through a crop of home-grown stars, it's hard to imagine him simply walking away now.
But Cleary is a also a realist. In a small job market a multi-year offer from Penrith could be more appealing than whatever offer - if any - the Warriors eventually produce.
Oddly enough, Cleary is the youngest of the three contenders. Having celebrated his 40th birthday this year, he still qualifies as a young coach. With five-and-a-half seasons under his belt, he may well be coming into his prime.
His record at the Warriors stacks up. While his winning percentage (48.23) trails Daniel Anderson (55.43) and John Monie (50), Cleary has taken the club to the finals three years out of five. Before Cleary the club made the playoffs just three times in 11 years.
Anderson may have taken the Warriors to the grand final in 2002, but Cleary has done what Anderson could not at both the Warriors and Parramatta - survive a poor season. As bad as things got in 2009, Cleary never lost the faith of his senior players and, vitally, the club's board.
Iro, who will inherit the top job if the club promotes from within, is in fact four years Cleary's senior.
Given he is well-liked and already has an established relationship with the players, backroom and front-office staff, Iro probably has the inside running if Cleary does depart.
Iro has yet to coach in first grade but the same was true of both Cleary and Anderson before they were given the job. He has served a lengthy apprenticeship and should be ready.
The elephant in the room - or more accurately standing outside the tent - is Bluey McClennan.
His recent toppling of the full England side with an Exiles team comprised largely of veterans in semi-retirement in Superleague and NRL rejects was a handy reminder of his golden touch. Teams coached by McClennan tend to win trophies.
McClennan, who returned to Auckland late last year after three successful seasons in Leeds, asked not to be quoted when approached for this story. He doesn't want to be a disruptive influence on the club, and doesn't want to be seen to be campaigning for the job.
That may be so, but others are already doing exactly that. A Facebook page has been set up by fans calling for McClennan to be installed as Warriors coach.
At last count the page had just 24 'likes', however, the groundswell of support among fans for the man who guided the Kiwis to the 2005 Tri Nations title and delivered two titles for Leeds is a lot more significant than that.
McClennan won't say so publicly but it is a given he would love the job.
He returned home from Yorkshire because he wanted to raise his family in Auckland, not because he was ready to give up top-level coaching.
He works as the Auckland Rugby League's football development manager, but his recent experience with the Exiles started the coaching juices flowing again.
"Look, it was a lot of fun," he said.
"I've been blessed to have some quality teams over the last few years and I was fortunate yet again to get another great group to work with."
Whether the next group he works with is the Warriors' NRL squad remains to be seen.
Strangely for a man who has Auckland league pumping through his veins, McClennan is a bit of an outsider at the Warriors. He co-coached the club's U16 team with NYC coach and mentor John Ackland in the inaugural 1995 season, but hasn't been a member of the inner circle since.
As low as McClennan has tried to keep his public profile, the issue of having such a well-credentialled, popular and available coach sitting on their doorstep isn't just going to go away for the Warriors.
"This is where I'm from, I love it here," McClennan said.
The question is whether the club will eventually invite him in.
The options
Option 1
Ivan Cleary
Age
40
Experience
In sixth season as Warriors' first grade coach. One season as Warriors' assistant coach (05) and two seasons as Roosters' Premier League coach (04/05). 186 first grade games as a player for Manly, Norths, Roosters and Warriors. Has compiled a 68-5-68 record as Warriors' coach.
Positives
Likely to be coming into his prime as a coach. Has survived trials by fire in 2009 and at the start of 2011 and should have learned valuable lessons from his mistakes. Knows club and players inside and out and has full respect of his colleagues.
Negatives
A hard sell to a fan base craving a title tilt. The Warriors have made the finals three out of five seasons with Cleary in charge and that is likely to become four out of six this season.
In the 11 years preceding the Cleary era, the club made the finals just three times and finished 10th or worse seven times.
But while Cleary has presided over an era of steady but unspectacular success, his best effort to date was making the preliminary final in 2008.
The club's best season remains 2002 when Daniel Anderson guided it to the grand final.
After six seasons, many fans will feel Cleary has had enough chances to crack a grand final.
Option 2
Tony Iro
Age
44
Experience
Has been in the Warriors' coaching system since 2005. Inaugural NYC coach in 2008; promoted to NRL assistant coach in 2010. Assistant to Kiwis coach Stephen Kearney since 2009 and worked with Bluey McClennan in 2006 and 2007. Played 194 NRL games for five clubs and 50 games for Wigan in the English top division.
Positives
Groomed for the job as part of a clear succession plan.
Has strong familiarity with the players - many of whom he coached at U20s level - and systems so would provide continuity and any transition would be likely to be smooth.
Extremely popular and media-friendly figure.
Negatives
Untested. Yet to coach in first grade or hold a top-level head coaching position.
However he has served a lengthy apprenticeship and, at 44, is likely to feel he is ready to step up.
If the opportunity doesn't come soon at the Warriors, it may well come somewhere else.
Option 3
Brian (Bluey) McClennan
Age
49
Experience
Assisted John Ackland with the Warriors U16s in the club's inaugural 1995 season. Guided Hibiscus Coast from the third division of Auckland league to the Bartercard national championship. Also won the Bartercard title with Mt Albert. Kiwis assistant to Daniel Anderson in unsuccessful 2004 campaign. Promoted to head coach in 2005, winning Tri Nations by beating Australia in final in Leeds. Compiled a 7-9 record as Kiwis coach before joining Superleague club Leeds. Guided Leeds to titles in 2008 and 2009. Posted a 73-1-28 record with the club over three seasons. Recently guided Superleague Exiles side to victory over England in one-off test. Currently works as football development manager for Auckland Rugby League. Represented Auckland as a player, including captaining the province to a victory over Great Britain.
Positives
The people's choice. Possesses a golden touch, enjoying success at every level of coaching from lower-grade Auckland club footy through to international success with the Kiwis. Has professional club experience with Leeds, one of the biggest and best-resourced clubs in England. Is Auckland league through and through, having learned his trade from the likes of father Mike, a former coach of St Helens, and current Warriors NYC coach John Ackland.
Negatives
Has enjoyed success in Super League but yet to coach in the NRL so would be perceived by some as a risk. Would inherit a team not of his own making so might require a transitional period.