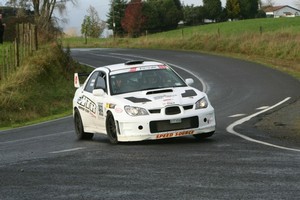 Winning this year's Targa Rotorua tarmac motor rally in the Bay of Plenty and Waikato over the Queen's Birthday weekend has completed an important family circle for Orewa father-and-son pair Leigh and Gray Hopper.
Three years ago Leigh's other son Stace finished third in the annual event in his then newly-built Subaru Impreza WRX.
It was an impressive debut for the car and driver but before he could return to do even better Stace was killed in a light plane crash in Northland
To honour his memory his father and brother entered former New Zealand rally champion Richard Mason and Stace's original co-driver Simon Kirkpatrick in the car in last year's Targa Rotorua event and despite some engine dramas the pair went on to win the event with Leigh and Gray sixth in Leigh's similar but less developed WRX.
This year Leigh and Gray decided to share Stace's car themselves and in a fairytale result they dominated the event, establishing a lead of over two minutes on the first day, and extending that to four-and-a-half minutes today.
"We did it for Stace," Leigh said as he and Gray were surrounded by well-wishers in parc ferme after the event. "There was a bit of pressure yesterday, but that was probably more the adrenaline than anything else. Today was more about settling in and maintaining our lead."
Making it a double celebration were long-time family friends, Rick and Joel Giddy, also from Orewa, who ended up second overall in their Subaru Impreza WRX.
At the end of the first day of competition on Saturday, Nissan GT-R35 pair Harry Dodson and Glen Cupit held second place and on Sunday Dodson retained the advantage until stage 10 when he and Cupit lost valuable time when they ran off the road.
"We just came into a corner a little hot and we rode up a bank," said Dodson. "We carried on but there was so much mud and stuff under the car and in the wheels that we had to pull over, get out of the car and clear it. That lost us about three minutes which was enough to put the Giddies in front of us."
As it turned out the Giddie brothers were having problems of their own, completing most of the stages without fourth gear.
"So for that reason alone we're rapt with the result," said Rick.
Fourth overall, despite winning all eight Sunday stages, was rally ace Glenn Inkster and co-driver Spencer Winn.
The pair were vying for the Hoppers for the overall lead heading into the final Saturday stage only to blow a turbo and lose time. And though they tried they were not able to make up the deficit on Sunday.
"We were obviously disappointed about that yesterday afternoon, but that's motor racing," said Inkster. "Today our target was to try and win every stage and though we did that and pulled a lot of time back it wasn't quite enough. We still had an absolute blast though and at the end of the day that's what Targa events are all about."
Like overall winners Leigh and Gray Hopper, the winners of the Classic category, Mitsubishi Lancer GSR pair Cameron Young and Steven Fisher, also carried over a lead from the first day, establishing an early advantage in the slippery conditions on Saturday and maintaining the advantage - despite stiff competition and a late event clutch change on Sunday.
It was touch and go, in fact, on Sunday afternoon, the Opotiki pair losing two minutes with a blown clutch in the penultimate stage. Fortunately they were able to replace the clutch before the final stage and retain their lead - albeit by the much diminished margin of 59 seconds.
Perfectly demonstrating the diversity of the Classic field, second place went to Mark and Chris Kirk-Burnnand in a BMW M3, third to former New Zealand Speedway champion Brent Emerson and Sheryl Hanright in a Holden Commodore V8, fourth to Taranaki pair Stuart Rose and Gary Renall in a much-modified V8-engined Toyota Hilux ute and fifth to Wanganui pair Peter Cullen and Paul Tulloch in an exotic mid-engined Italian-built de Tomaso Pantera.
Local honours again went to the pair who share the distinction of being the oldest competitors in the event, 73-year-old Keith Yeats and 83-year-old Shirley Faull from Te Puke. They finished 12th overall in the Classic category in Keith's 1977 BMW 535i.
Also flying the Rotorua flag were the pair sharing the oldest car in the field, Mike Lowe and Phillip Sutton. Having completed all but one of the Targa events run in this country the 1964 Fiat Abarth is a real crowd facourite and despite clutch problems he and Sutton finished 18th in class. "We've had another wonderful day," Lowe said, "and the support we have received from the Rotorua community has again been fantastic."
This year's Targa Rotorua event attracted 101 starters and was very much an event of two halves, with wet, cold and slippery conditions on roads in and around Rotorua on Saturday then unseasonably warm and dry conditions on roads in the southern Waikato on Sunday.
Favourites heading into the event were two-time Targa Tasmania winner Tony Quinn and Adam Tillet in a Nissan GT-R35 but the Australian pair only got as far as five kms into the first stage before breaking a front driveshaft. Highly rated local Nissan GT-R35 pair Clarke Proctor and Tony Callaghan also struck trouble, retiring with gearbox problems later in the day.
Targa Rotorua 2011
Modern1. Leigh Hopper/Gray Hopper (Subaru Impreza WRX Sti) 03:34:50
2. Rick Giddy/Joel Giddy (Subaru WRX STi) 03:39:30
3. Harry Dodson/Glenn Cupit (Nissan GT-R35) 03:39:48
4. Glenn Inkster/Spencer Winn (Mitsubishi Lancer EVO) 6 03:40:41
5. Ross Johnson/Mike Patching (Porsche 996 GT2) 03:43:04
6. Stuart Scoular/Bret Scoular (Subaru Impreza WRX STi) 03:44:07
7. Rick Martin/Munroe Martin (BMW 135i) 03:44:09
8. Simon Clark/Donald Howard (BMW E36 330) 03:49:05
9. Robert Darrington/David Abetz (BMW E46) 03:51:02
10. Derek Cecil/Rebecca Hayes (BMW E36 M3 Evo) 03:52:51
Classic
1. Cameron Young/Steven Fisher (Mitsubishi Lancer GSR) 03:48:40
2. Mark Kirk-Burnnand/Chris Kirk-Burnnand (BMW M3) 03:49:39
3. Brent Emerson/Sheryl Hanright (Holden Commodore) 03:50:17
4. Stuart Rose/Gary Renall (Toyota Hilux) 03:51:06
5. Peter Cullen/Paul Tulloch (de Tomaso Pantera) 03:51:14
6. Barry Kirk-Burnnand/Steven Kirk-Burnnand (BMW M3) 03:54:01
7. Allan Lewis/Colin Cole (Datsun 240z) 03:55:15
8. Ross Clarke/Alistair Wickens (Toyota TA22) 03:55:30
9. Warren Glassford/Nigel Patterson (BMW 320i) 03:56:28
10. Paul Tanner/Melissa Stewart (Toyota Sprinter) 03:58:58