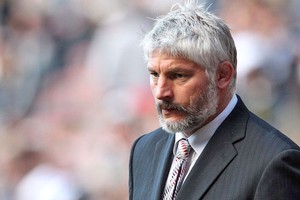 Crusaders coach Todd Blackadder is irate after a crucial referee decision cost his side victory against the Reds in Brisbane last night.
The Reds surged four points clear at the top of the Super 15 standings after the last gasp 17-16 win.
Quade Cooper slotted a last minute penalty after referee Stu Dickinson ruled Richie McCaw had his hands in the ruck.
But Blackadder believes the ball was already out and says it is frustrating because his side did enough to win.
"Those decisions are just influencing outcomes and it's really disappointing to us from our point of view because we played so well, I'm really proud of our players. But to lose like that under those circumstances was really disappointing," Blackadder told Radio Sport's Tony Veitch.
"For us being on the road we really targeted this game. You invest so much time and effort into it you want to let the players influence the outcome but these things can really hurt you when it comes to playoff time.
"We're talking hundreds of thousands of dollars here and obviously home ground advantage so it just doesn't make it any easier."
The Crusaders sit fourth on the ladder, five points behind the Blues in the New Zealand conference.
The Crusaders were on the wrong end of the penalty count despite remonstrations by McCaw and No.8 Kieran Read and the All Blacks captain was diplomatic when quizzed on his concession of the match-turning infringement.
"I'm always going to think I was right but the ref saw it a different way. It's pretty disappointing. Ben (Franks) counter rucked, I presumed that was considered OK. I presumed he went past the ball so it was out so I went and picked it up. He (Dickinson) said it was still in the ruck."
McCaw disagreed with the ruling but saw no point complaining.
"You don't say what you're thinking. I guess when you think you're in the right and you're not, what can you say? He's made his decision and he wasn't going to change it."
The last minute penalty decision wasn't the only controversial refereeing decision with the Reds opening try by Digby Ioane coming from a possible forward pass.
The Reds also knocked the ball on in the final stages of the game but it was missed by Dickinson.
Asked if a video referee should become more involved in a game when a forward pass takes place, Blackadder agreed it could be an option.
"These games there's more and more pressure certainly at this end of the season. It will be interesting to see where it goes. What you're alluding to is making sure we get all these decisions right. Some good may come out of this."
The Crusaders have the bye this week before closing out the round robin with home derbies against the Blues and Hurricanes.
- NEWSTALK ZB/HERALD ONLINE/NZPA