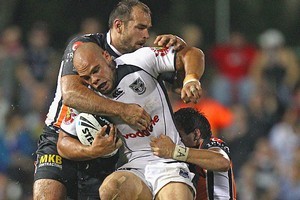 NRL referees boss Bill Harrigan concedes his officials got it wrong by not referring upstairs for a possible try to Warriors forward Feleti Mateo in Saturday night's loss to the Wests Tigers.
Junior referee Alan Shorthall immediately ruled Tigers centre Blake Ayshford had grounded the ball in his in-goal in the 14th minute before it came loose and Mateo dived on the scraps.
Replays suggested the ball had rolled away before Ayshford planted it and Harrigan agreed with that conclusion after reviewing the decision on Sunday morning, but backed Shorthall for being decisive.
At the time the momentum was with the Warriors, who went on to lose the Leichhardt Oval match 20-12, and coach Ivan Cleary later questioned the call.
"He's got it wrong, he didn't ground it," Harrigan said.
"But I go back to my instructions to them first off, refereeing is all about confidence and confidence is making decisions.
"So if you put yourself in the perfect position and you're a hundred per cent certain it's a try or a no try, make the decision.
"What I didn't want to see from the guys is don't be drawing the square to send it up when in your mind you know that it's going to be a green or a red light."
Harrigan said Shorthall would still be asked to explain how he came to his decision.
"I'll be saying to the referee, 'Mate, what were your thoughts?'," Harrigan added.
"And obviously he's going to say to me, 'I was a hundred per cent certain Bill'.
"And I'm going to say, 'Good, you've made the decision, it was wrong, we've got to live it'.
"But I applaud him for being in the right spot and making the decision.
"When you make decisions inevitably you're going to come up with a wrong one.
"We all do that."
Harrigan said senior referee Tony Archer was not in a position to have questioned Shorthall's call and it remained uncertain whether Mateo had grounded the ball before the dead ball line.
But he backed Shorthall to continue in the top grade next week.
"With the replay there (on the scoreboard) I would say he would have known that was an iffy one," Harrigan said.
"He may have had a look at the replay himself.
"The good thing was he kept himself together.
"You'd hate to see that he then fell apart and that affected the rest of his game.
" ... That tells me that he's a competent first grade referee."
- AAP