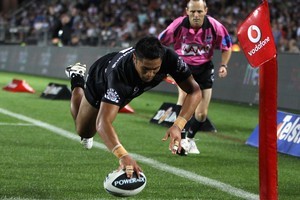 The battle of Eden became Groundhog Day.
Memo to rugby league administrators; please forget Eden Park as a venue.
For 65 minutes the Warriors produced a nervous, ill-disciplined, mistake-riddled display - before finding their mojo in the last 15 minutes - but still went down to a solid Eels outfit .
A serious knee injury to Manu Vatuvei compounded their woes, while Stephen Kearney continued his midas touch, becoming the first Parramatta coach to win on debut in 30 years.
The stirring comeback was positive, as was the performance of new hooker Shaun Berrigan. Feleti Mateo had his moments in a pack that was often struggling but winger Glen Fisiiahi had a debut to forget.
In front of a Warriors record crowd of 38,412, much of the match continued the pattern of anti-climatic, frustrating performances by a home side in league matches at the venue. Think the World Cup final in 1988 - or last year's Four Nations blowout.
Vatuvei limped from the field in the 14th minute and early indications are a torn medial ligament and an absence of six to eight weeks.
The injury occurred during a try-saving tackle by opposing winger Etu Uaisele, who zeroed in on Vatuvei's knee like a scud missile.
It's a disaster for the Warriors, and makes the delay in getting ACC approval for surgery during the off-season more regrettable.
In the first half the Eels, anchored by impressive hooker Casey Maguire,dominated the ruck and completely controlled the first 40 minutes. They enjoyed 70 per cent of possession and made only 93 tackles while the Warriors were forced into well over 200.
The back three, especially Lance Hohaia, struggled with Jarryd Hayne's towering kicking game and Fisiiahi endured a nervous debut - perhaps in hindsight the experience of Kevin Locke or Krisnan Inu would have been wiser.
The home side lacked composure on attack and defence. Simon Mannering couldn't capitalise on an early charge down; Fisiiahi spilled the ball after a strong break; Mateo lost the ball on his first touch after a flimsy hold and Lewis Brown and Jerome Ropati crossed wires with the line open.
Their fifth tackle options were poor but the cause was not helped by some inconsistent calls from the referees, and Mannering will hope to develop more of a Steve Price-like rapport with the men in pink.
It was easy to see the Kearney stamp on the Eels. They produced Storm-like wrestling around the ruck and he had done his tactical homework, capitalising on the Warriors' tendency to over read on decoy runners. The Eels jumped out to a decisive 24-6 lead before the Warriors finally got their game in order.
For 65 minutes Ivan Cleary's side looked frustrated, like they were trying too hard, but came home strongly with tries to Jerome Ropati and Lewis Brown. It not only got them back into the match, but they also brought the crowd with them.
It didn't have a happy ending as handling errors later prevented what would have been a miracle comeback.
It feels like we've been here before with the Warriors. This defeat is by no means a serious one but it will stall some momentum that was starting to build. People were getting excited about the Warriors again and they need to ensure fans remain that way.
The will have to do without Vatuvei for some weeks and they might also be missing James Maloney for their trip to the Wests Tigers next weekend.
The five-eighths put a reckless charge on Hayne who was waiting under a bomb and Maloney will surely face a suspension.
YET ANOTHER BLOW SIDELINES BEAST
The Beast continues to carry a horrible burden.
Manu Vatuvei is rapidly becoming one of the game's unluckiest players.
Last night's injury against the Eels, incurred after a kamikaze head-first tackle by young Eels winger Etu Uaisele, is the latest in a wretched run for the popular winger.
He missed a fair degree of the last NRL season through a hamstring injury, and then broke his arm in the first game of the Four Nations tournament. Now, after coming into this season in the best shape of his life, he faces at least another six weeks on the sideline.
Vatuvei is a jovial, positive character, but the frustration is obviously starting to get to the 25-year-old.
"I'm really gutted, down on myself and pretty angry at the moment," he said.
"But that is how the game is - players do whatever they can to try to stop me, especially if I have got the size over them. Now I have to look after the injury and come back stronger."
Coach Ivan Cleary had no problem with the incident, but many observers felt the tackle belonged more in the NFL than NRL.
"He flew at my knees and got me good," reflected Vatuvei. "I think it was just something that came suddenly into his head. I think it shouldn't be like that - it's really dangerous and I've got injured from it."
Vatuvei said he knew immediately it was a serious injury as he over-extended his knee. Initial tests by the club doctor indicate it's not the anterior cruciate ligament, rather the medial ligament, but Vatuvei faces a nervous 24 hours until scan results come through.
The barnstorming Vatuvei is not only a fan favourite, he is also the key man for the Warriors. He is the go-to guy on attack, and often the main yardage man in the trenches, averaging a club high 121m per match in 2010.
In recent years he has also developed into arguably the biggest aerial threat in the competition.
He has dotted down an incredible 49 times in his last 53 NRL games and has 78 tries across his career. But it could, and should, be closer to 100, if injuries did not continually blight his career.
Cleary was obviously downcast and refused to speculate on who might replace Vatuvei.
The coach also defended the erratic performance of Glen Fisiiahi, saying he was confident the youngster would bounce back.
With the grace of hindsight, the selection seems an unfortunate decision, especially with the hype around the Battle of Eden.
Cleary has maintained that the surprise non-selection of Krisnan Inu was solely on form, but nobody has more experience of defusing Jarryd Hayne's bombs than Inu.
Hayne admitted in a radio interview afterwards they would practise kicking and catching together at every Eels training session.
Warriors 18
J. Ropati 2, L. Brown tries;
J. Maloney 3 gls
Eels 24
J. Robson, J. Hayne, L. Burt 2 tries
L. Burt 4 gls)
HT: 6-14.
* The Junior Warriors opened their defence of the NYC title they won last year with a 20-16 win over the Junior Eels.