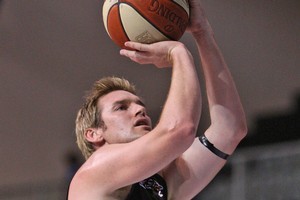 They've been out-muscled, out-shot and out-enthused for much of the last month, but the Breakers expect to be the ones doing the ousting in their top-of-the-table clash with the Townsville Crocodiles on the North Shore tonight.
Out-scoring the Crocs will shut out the only club threatening their claim to a minor premiership that had seemed a formality until just over a week ago.
"We see this game as a must-win," veteran forward Dillon Boucher said. "We are going in with a lot of focus. I'm not saying we didn't for the other games, but we don't want to be a team that has slipped three games in a row and have that snowball effect. We want to take care of what we need to and come away with a win."
That they have looked less convincing as the weeks go by hasn't been lost on Boucher and his teammates.
Having started the year with eight straight wins, they have dropped consecutive games to playoff-chasing clubs Gold Coast Blaze and Wollongong Hawks.
The signs of a decline appeared before those defeats, with the Breakers needing double overtime to see off the Blaze on the Gold Coast and previously being severely pushed by lowly Melbourne and an injury-hit Perth club.
The players had rejected talk that their huge lead atop the ANBL had affected their hunger, but now Boucher concedes that may have been the case.
"It obviously has been an issue," he said. "We have lost the last two games against teams that are desperate to make the playoffs. We have talked about it and we have tried to make ourselves aware of it but, subconsciously, you do fall into that comfort-zone-type scenario. I think that has definitely been the case with this team.
"As much as we want to say it's not, sometimes it is hard to have that same intensity as a team that is fighting for their life."
Victory would take the Breakers to 19 wins, within a victory or a Townsville loss of claiming the minor premiership and top seeding for the playoffs.
But whether the Breakers can overcome the interior defensive struggles that opponents believe to be their major - and perhaps only - weakness remains to be seen.
With 2.13m centre Luke Schenscher leading the line, the Crocs pose a massive challenge in the paint.
Forwards Russell Hindaer and Rosell Ellis are also major threats but Boucher was just as wary of a guard line that destroyed the Breakers in the only meeting between the clubs this season in Townsville on New Year's Eve.
"They are really well balanced across the floor," Boucher said.
"They have got shooters on the outside and big men on the inside. They have got weapons all over the show and they definitely hurt us up in Townsville with their shooting. They shot the ball really well and it really broke us apart."
The Crocs may have been deadly in Townsville where they have gone 11-1 but it has been a different story on the road, where they have posted just three wins in 10 matches.
With their next match a return trip to Townsville on Saturday week, the Breakers will be keen to get the job done in their own building tonight.
If they are to snap the Crocs' four-game winning streak, their defence that shipped 104 points in Sunday's defeat by Wollongong will have to improve dramatically.
"If any team puts 100 points on against you it usually means you haven't done a great job defensively," Boucher said.
"That definitely was the case in the last two games. We didn't execute well as a team and we didn't play team defence."
BREAKERS V CROCS
* North Shore Events Centre
* 7.30 tonight