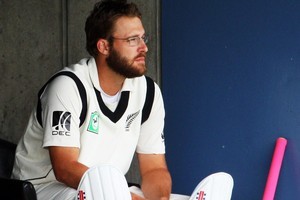 Step aside, Tim Southee - Daniel Vettori has played a captain's knock, racing up the order of sexiest cricketers at the World Cup.
The New Zealand captain was judged first equal in the hottest player stakes at the tournament by a panel of eight leading Bollywood actresses.
Indian captain MS Dhoni and young teammate Virat Kohli got the benefit of some hometown officiating to join Vettori.
Concerns that Vettori would be too busy to properly fulfil the role of pin-up boy will have been alleviated by the recent reduction in his portfolio of responsibilities.
Where once he was star allrounder, best player, selector, acting coach and mini-van driver, Vettori can now focus on runs, wickets and looking hot.
Actress Neha Dhupia summed up the appeal of New Zealand's bespectacled left-arm spinner. "Vettori is handsome and a great player!" she said.
"He gives a lovely intellectual feel to the sport."
The urbane Vettori, who has done more for spectacles than any man since Buddy Holly, is popular in India.
He played the past three years for Delhi Daredevils in the Indian Premier League T20 competition, before signing this year with Royal Challengers Bangalore in a deal worth US$550,000.
It wasn't just the luminous Dhupia - whose Bollywood credits include Qayamat: City Under Threat and, perhaps surprisingly, playing Eva Braun in Dear Friend Hitler - who had an eye for his talent.
Actress-cum-rapper Shruti Haasan said: "I think Daniel is very good-looking. For me, he is the best."