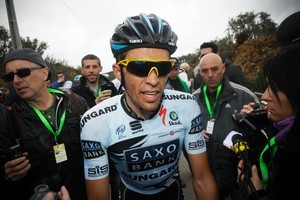 What would you like, Alberto Contador? A salad. Fine ... what's that? No, I don't think there's any clenbuterol in salad but I'll check with the chef.
I'll just take Mr Graeme Swann's order first. Yes, roast beef, Yorkshire pud, a tomato juice, a set of screwdrivers and a Lotto ticket.
What's that, Senor Contador? You'll have a Lotto ticket too? And one for the Prime Minister...
So they should buy Lotto tickets because Tour de France winner Alberto Contador and England's Ashes cricketer Graeme Swann are already among the luckiest people on Earth.
Swann is the offspin bowler who played a key part in England's successful Ashes series over Australia. Some time back, he was accused of drink driving. Police found him out in his Porsche at 3am and tested him.
Swann said he'd come home that night (by taxi) after celebrating his birthday with his wife. A breath test and blood test showed he was "borderline" over the limit.
The police officer involved said: "A male got out of the driver's seat with his hands in the air. I saw something in his right hand and saw they were a set of screwdrivers." Swann stated he had been out that evening and had come back to find his cat trapped under floorboards.
"His speech was slightly slurred but he was compliant. Mr Swann said: 'I'm sorry. I know I should not be driving but I only went to Asda to get some screwdrivers to get the cat out'."
Last week, Swann was cleared on a technicality because police had not followed the correct procedure.
There's an important point to be made here. The cops might have mucked up their blood samples but, failing that kind of intervention, Swann was headed for a bit of a smack on the wrist.
The law is clear. Too much drink plus driving equals penalty. It is completely black and white (police snafus aside). Swann, to his credit, wasn't saying: 'Well, I was just a little bit over". His concern for his cat is commendable and I for one am impressed that giant retailer Asda in the UK is open for 24 hours but it's crystal clear - drive over the limit to get screwdrivers for the cat and the law still applies.
Tour de France cycling champion Alberto Contador has also escaped censure (for the time being, anyway) not because of a cat ... but a cow. Contador has mounted an impressive PR campaign proclaiming his innocence after being found to have tiny traces of clenbuterol in his system - because, he says, he ate tainted beef.
Clenbuterol treats respiratory disorders such as asthma and can increase aerobic capacity by improving the flow of oxygen in the bloodstream. Athletes have been known to use the drug to lose weight and build muscle - an attractive combination for cyclists. Some farmers use the stimulant illegally to bulk up cattle.
Contador has consistently maintained he did not cheat by taking drugs and has presented as an injured, wounded hero; his reputation damaged because he'd innocently eaten dodgy beef. His protests reached the ears of Spain's prime minister, José Luis Rodriguez Zapatero, who said there were "no legal grounds" to ban Contador.
Lo and behold, the Spanish cycling federation - which had been recommending a one-year ban - reversed that decision and cleared Contador. The Spanish decision has surprised because, just like Swann and his drink-drive, the rules are clear: even a trace of performance-enhancing or banned drugs and you're out. The rules don't care how the drug got there. It's up to the athlete to prove their innocence after a positive test.
Some people have been making much of the minute quantities found in Contador's test - he had 50 picograms per millilitre of clenbuterol in his body. A picogram is one trillionth of a gram. Some, including some media nongs in this country, have said brainless things like 'that wouldn't make him Superman overnight'.
Ah, well, no ... it's just that the tests are so good that they can pick up even a tiny amount. The test can only measure what is there at the time. It cannot say how long the trace has been in the body nor whether it is the residue of a larger dose, now mostly cleared from the body. It can't tell whether it came from boosted beef.
Doesn't matter - the point is that it exists.
The UCI, cycling's world body, has an "out" clause. It says that a rider can be exonerated if he can prove that he inadvertently ingested a product through no fault or negligence on his part.
Quite how Contador proved that will be interesting. The Spanish federation has not revealed how it knew. The allegedly dodgy beef is long gone. So what gives?
The Spaniards may be pinning their hopes to a recent study by a German laboratory - the same one that found traces of clenbuterol in Contador's urine. It warned athletes travelling to China that eating meat there could cause a positive test. The study found that 22 of 28 non-athletes who returned from China to Germany tested positive for low levels of clenbuterol.
The UCI and the World Anti-Doping Authority can appeal Contador's case within the next month - and may well do. Neither appealed the recent case of Alessandro Colo, an Italian rider who tested positive for clenbuterol last year in Mexico. Colo said tainted beef caused the failed drug test, but still received a one-year suspension from an Italian antidoping tribunal. That penalty was given to him, he said he was told, because he should have known that Mexican beef is commonly contaminated with clenbuterol.
There it is - the assumption that the responsibility for what is in the athlete's body rests with the athlete.
Contador supporters cite the precedent of German table tennis player Dimitrij Ovtcharov, recently cleared of doping charges stemming from a positive clenbuterol test in China last year. WADA appealed the case, but dropped it after it was shown lab evidence to support the food contamination claim.
Can Contador do the same thing? UCI might have an out clause but WADA president John Fahey said last week: "We do not know the words 'inadvertent contamination"'.
So Contador might be back in the saddle now - riding in an event in Portugal - but WADA still might have a beef with him. The Ovtcharov case might be a precedent - if Contador has proof.
More lettuce, senor?