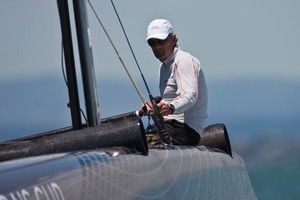 Sir Russell Coutts says he's looking forward to racing an AC45 multihull in the America's Cup World Series as he was 'getting bored with monohulls'. Photo / Gilles Martin-Raget
Sir Russell Coutts felt like Barney Rubble when he climbed on board the wingsail catamaran - the new face of the America's Cup - on the Hauraki Gulf this week.
After declaring the new style of Cup racing under his watch would meet the expectations of the Facebook generation, not that of the Flintstones, Coutts yesterday admitted feeling a little prehistoric sailing the AC45 built to usher in the new era.
He is, after all, 48, and far from race-fit after a minor illness over Christmas. Yet it took only a minute before he kicked Oracle Racing skipper Jimmy Spithill off the helm on his debut sail in Auckland on Thursday.
"I loved it. It's a really responsive boat - it's not like driving the family saloon, this is a Formula One car," Coutts said, predicting this scaled-down version of the AC72 Cup boat will do more than 30 knots in the right conditions.
The Oracle crew has had the cat reaching speeds of 28 knots on the Hauraki Gulf this week, and will take it out for a spin among the Auckland Anniversary Day regatta fleet.
Coutts, the most successful skipper in America's Cup history, has every intention of sailing on the quick-tacking, one-hull-flying race machines in the America's Cup World Series, pencilled in to start in July.
"To be honest, I probably wouldn't have sailed had it been in monohulls, because frankly I was just getting bored with them," he said.
It is, of course, in Coutts' best interest to talk up the merits of the multihull, with the closing date for entries still two months away. So far there are six entries, including defender Oracle Racing. And there were broad hints yesterday that Emirates Team New Zealand is the as-yet unnamed entry.
From the start of February, teams that have entered the 2013 America's Cup will be allocated five days of sailing on the new AC45, the first of 10 one-design cats being built at Warkworth, north of Auckland.
Spithill said yesterday that Oracle and Mascalzone Latino had booked the first week, with Team New Zealand taking their turn in the second week ahead of the Swedish Artemis Racing.
Coutts is "extremely confident" there will be at least eight teams signed up by the March 31 deadline, but more likely 10.
By March 1, four of the AC45 cats will be handed out to the challenging teams with boats coming off the production line every fortnight following. With so many Cup racing teams in Auckland, it seems likely there will be a mini-regatta in April.
The AC45s give teams new to multihull sailing (that is, every team but Oracle) the opportunity to get to grips with the revolutionary wingsail before building their own 72ft versions for the actual Cup. The World Series events will be fleet racing affairs - which Coutts predicts could one day replace matchracing for the Auld Mug.
Coutts knows the new-look Cup event still has its detractors: "I would say more than half the people still have major concerns about multihulls.
"But I think it's where the Cup and the high performance side of the sport had to go. We can't be stuck with the white pants and blue blazers forever; you've got to make it something that young people get enthusiastic about, that they can reach for.
"Otherwise we were just going to end up with a bunch of 60-year-olds racing in the America's Cup."
The 34th America's Cup
10 AC45 wingsail catamarans will be built in Warkworth, raced by all syndicates in the America's Cup World Series this year. Teams will build their own AC72 catamarans to race in 2012-13.
Louis Vuitton Cup challenger series: July 13 to September 1, 2013, on San Francisco Bay.
America's Cup match: September 7-22, 2013 on San Francisco Bay.
Entries so far: Oracle Racing (defender), Mascalzone Latino (Italy), Aleph Team France, Artemis Racing (Sweden), YuuZoo (Australia), and one unnamed.
AC72 approximate dimensions:
Length Overall - 22m
Beam - 14 metres
Displacement - 7000kg
Wingsail area - 300sq m