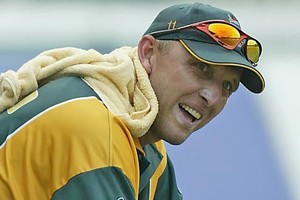 Former South African paceman Allan Donald has taken on the role as a bowling consultant for the Black Caps.
Donald has accepted a temporary position to work with the Black Caps immediately, Reuters reports.
Donald has been released from his contract in Zimbabwe, where he was head coach of the champion domestic franchise the Mountaineers.
"I'm extremely grateful to Zimbabwe Cricket (ZC) and the Mountaineers for agreeing to release me and I'm equally excited about the possibility of joining New Zealand Cricket on a more permanent basis," Donald told Reuters.
"Even though I was only in Zimbabwe for three months I thoroughly enjoyed my time there and learned a lot about being head coach," he added.
"Zimbabwe Cricket is undoubtedly heading in the right direction and I was looking forward to being a part of their return to test cricket.
"But the opportunity to return to international cricket was irresistible and to work with somebody of the stature of John Wright is something which doesn't come along every day and I can't wait to get started," Donald said.
In 2008 Donald rejected an chance to work with the Black Caps when offered a position by coach Andy Moles, a former teammate.
Donald retired from international cricket in 2003 after amassing 272 ODI wickets and 330 wickets for South Africa.
- Herald online