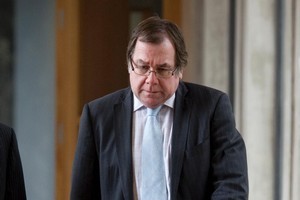 Sport is about touch and feel, it's also about power and we're not talking on the field. We're talking influence, we're talking political and administrative muscle men and women. We highlighted the dominance of white middle-aged men on the 2010 list.
Guess what? Not much has changed, nor is it likely to in the next few years. But 2011 is all about one event, one sport and that is reflected in the predominance of 15-man folk in the 25.
This is a list that reflects the power individuals wield in New Zealand sport - not sport in general - and the influence they are expected to have in the next 12 months.
The omissions of newly minted IOC member Barry Maister, Wada bigwig David Howman and Indy Racing legend Scott Dixon might seem strange, but it should be considered in that context. So, too, the relative lack of representation of New Zealand Olympic Committee officials. With no big events in odd numbered years, they might as well break out the sun-loungers. There were close-but-no-cigars for the likes of new Sanzar chief Greg Peters, Rugby Channel boss and cricket agitator Martin Crowe, drug tsar Graeme Steel, broadcasting veteran Murray Deaker, Team NZ boss Grant Dalton and handshaker Sir John Wells.
Hamish Carter is a comer, too, having not only the ear of the sports minister and a place on Sparc's high-performance committee, but also the entrepreneurial streak and vision to set up SportConnect. Next year, maybe.
Sports stars like Dan Carter, Benji Marshall and Valerie Adams have to be content only with a spot on the athlete list, as did Herald Sportsperson of the Year Ryan Nelsen.
1. Murray McCully:
Minister for Sport & Recreation, Minister for the Rugby World Cup
* Last year: 6
As it turned out, 2010 might be the year this most hands-on of sports ministers was at the peak of his powers, but as Minster for the RWC, he's got another busy schedule.
The success or failure of the World Cup will, in the eyes of the public, be determined more by those placed at numbers three, eight and (sort of) seven on this list, but in terms of the long-term benefits to this country and in particular the ability of New Zealand to attract big events in the future, Mssrs McCully and Snedden are top of the class.
Last year, in the midst of a recession, McCully did the unthinkable and went out and got more money for high-performance sport.
Last year $10 million was added to the existing $42 million high-performance spend, increasing to $15 million this year and $20 million next.
Some $15 million of lotteries money will be channelled into bricks and mortar, most particularly at the Millennium Institute on the North Shore and he also set up a Sparc board offshoot to oversee high-performance sport.
"What I've made clear to Sparc, the NSOs and academies is that I want more of a one-stop shop arrangement servicing the athletes," McCully said at the time of the funding announcement.
"I don't want athletes to have to run around between the new high-performance entity, the academy and the NSO. I want them to get their act together behind the scenes."
He took a personal interest in the Ben Fouhy versus Canoe Racing New Zealand case because it is high-performance sport that interests McCully, not so much the Push Play and Mission On initiatives that critics feel were clogged up in bureaucratic pipelines while wasting millions in taxpayer money.
According to one insider, McCully's sporting vision is the apotheosis of the trickle-down theory: get the top end of it right and you create the heroes that kids will aspire to be.
2. Martin Snedden:
RWC 2011, chief executive
* Last year: 1
In the days following October 23, when the keys to the World Cup are handed to England, Snedden might pull a cold one out of the fridge, sit on the deck of his home, take in the spring sunset and think, "What the heck am I going to do now?"
It will be one of the more pleasant dilemmas he will ever face. Until then he has 238 sleepless nights, approximately 1500 fraught phone calls, 500 cases of the cold sweats and countless false smiles to traverse.
As the man charged with ensuring the 2011 Rugby World Cup is a success, Snedden has to not only trust his own ability, but that of those to which he has delegated. He can take some comfort in the fact that he got some tough stuff out of the way. Match and hosting allocation went off without a hitch (though incomplete stadiums in Auckland and, particularly, Dunedin still have the capacity to throw up challenges), and ticket sales have been strong.
It's fine details time now and the continuing education of the New Zealand public to be aware that this is about more than the All Blacks, it is a global tournament.
Of course, New Zealand is bound to be a land of shiny, happy people if the All Blacks progress to the final for the first time since 1995.
Snedden can't do much about that, but the following man can ...
3. Graham Henry:
All Blacks coach
* Last year: 11
If this list had been done in the early days of 2007, Henry's name would have been at the apex. Everything he asked for, he got.
"What's that you say, stars pulled out of the Super 14? Consider it done, Ted."
"Pre-World Cup holiday in Corsica? Great idea. The tickets are in the post."
"You don't have a 1st XV as such? Oh well, I'm sure the public will understand."
On the surface, Henry has not got the same sort of leverage - a humbling quarter-final loss will do that to you - but he still has the most high-profile job in New Zealand sport.
He's in the strange position, too, of knowing that on October 24 the world will either be his oyster, or he will be viewed as a piece of rock-snot waiting to be carried away by the tide.
Any number of teams in any number of sports will be waiting to offer him a sinecure should the All Blacks end 24 years of national torment.
If the All Blacks fail in that quest ...
4. Paul Collins:
Sparc chairman, RNZ 2011 Ltd director and Government board appointee, Hurricanes chairman, Wellington Regional Sports Trust chairman
* Last year: New entry
Described by one source as the sort of person who "sees numbers and they speak to him".
Surprise, surprise, he is an associated chartered accountant. He's also a former Brierley Investments CEO and is a serial board member who has focused more and more on sports governance. It's not just numbers that speak to him, so too does McCully on a regular basis.
As Sparc chairman the word is he is far more exacting than his benevolent predecessor, Sir John Wells, though will still find it hard to get that entity moving in the same direction.
5. Peter Miskimmin:
Sparc, chief executive
* Last year: 2
Great year for Sparc; pretty ordinary year for Sparc.
There's no pressure on you to sit down and make sense of that contradiction, but there is for Miskimmin and his high-performance man Marty Toomey (see 18).
Sparc now has more money than ever, particularly at the high-performance end with which to distribute.
That pot of gold, now $50 million-plus, will increase over the next two years and his organisation will feel the brunt of the wrath should New Zealand's success on the world stage, particularly at the Olympics, fail to increase incrementally. That's the business they're in.
The Commonwealth Games, outside one or two sports, provided a sketchy return on their investment and deep-seated problems at Canoe Racing New Zealand and Swimming New Zealand mean Sparc will again have their work cut out attempting the impossible dream of keeping everybody happy.
Sparc has a huge remit, far too big, many would argue, and often lost amid all the triumph and heartbreak of elite sport is the fact that Miskimmin is also charged with shaping and implementing policies that provide every New Zealander with access to sport and recreation.
6. Richard Last
Sky TV, director of sports content and new media
* Last year: New entry
Sky's influence on sport is almost incalculable and Last's is the most formidable presence in the corridors of its Mt Wellington HQ.
If you want your sport on the telly, he is the man you have to impress.
More than likely his is a name you're unfamiliar with, but if you're the leader of an NSO with visions of television grandeur, you'd better familiarise yourself.
The talk of Stanley St over the past two weeks is how this is likely to be the last time the ASB Classic and Heineken Open is screened on state TV. No prizes for guessing where it will be served up next - and whose portfolio it will come under.
7. Rob Nichol:
NZRPA manager, IRPA manager, Athletes' Federation chairman
* Last year: 5
He is down from last year but only because of those who have jumped above, not through any lessening of stature.
Nichol's influence and power continues to expand, critics would say insidiously, while the rest of the country's sporting leaders sleep.
As head of the New Zealand and international rugby players' associations, his work in that sport is well known.
It is the emergence of the Athletes' Federation where his influence will continue to grow.
A seven-month campaign to get Ben Fouhy back in a kayak and competing at the next Olympics might have foundered, but not before he had a chance to fully introduce himself to Sparc.
The NZOC had already met the pleasure of his acquaintance as he fought for more surety around the security for athletes at the Commonwealth Games.
You get the feeling neither organisation is particularly looking forward to meeting him again.
8. Steve Tew:
NZRU, chief executive
* Last year: 20
A meteoric climb up the list following a good year for footy on the field, a bad year in the credits-debits ledger and an all-important year to come.
The World Cup has come at an intriguing time for the NZRU.
It posted a record loss last financial year and this year won't be much better. We're about to witness yet another dawning of the national provincial championship with two divisions of seven (some provinces look to be under serious financial strain, too), an expanded Super rugby season based on conferences and all this while we're awaiting the biggest sporting show to ever be staged here.
Tew will be at the wheel but missing will be Jock Hobbs, who is engaged in a running battle with illness. Tew has leaned on Hobbs in the past and he always offered an assured presence in times of crisis.
Tew is getting better in that respect and credit the Public Image department at Wellington HQ for shaping his more relaxed demeanour. Talking to journalists might still rank only slightly above removing toenails with a pair of pliers in his list of fun things to do, but he returns calls and he sometimes even answers the questions - a quantum leap for rugby administration.
9. Richie McCaw:
All Blacks captain
* Last year: 16
Another big riser. Wonder why?
McCaw has just come off a year where he was consistently excellent to the point of it all becoming a bit ho-hum.
Kieran Read might have scooped him for player of the year at the recent rugby awards, but McCaw's nomination for sportsman of the year at the Halberg Awards is probably a better reflection of his worth.
At this stage, you can still imagine an All Black team without Read, albeit a slightly inferior one, but try doing the same with McCaw - not a pretty picture. Like Henry, if he is a World Cup winner on October 23 he can name his price. Unlike Henry, if he doesn't it's not going to destroy his legacy (though it will ruin his night).
Essentially Group:
Sports agents
* Last year: New entry (agent Warren Alcock was at 18)
Breaking the rules here in that it's not a person as such, but a coven.
Essentially Group has the tightest grip on the All Blacks, including the aforementioned McCaw and Dan Carter.
There will be several hoping they manage to prise Sonny Bill Williams from the clutches of Khoder Nasser as well.
They are expanding their cricket interests, with New Zealand captain Daniel Vettori, under the management of Greg Dyer, on the company's books as well.
It is not just the player management game they're in either, with the securing of sponsorship for sports a big part of their business.
Essentially is run from London by former Palmerston Norther Bart Campbell. The boy has done good.
11. Chris Moller:
NZ Cricket chairman, RNZ 2011 director, Wellington Regional Stadium trustee
* Last year: New entry
Leaping back into the national sporting limelight with his appointment as NZC chairman, Moller has already made his presence felt.
He was not only the driving force behind the cricket committee, the formation of which is either, depending on who you talk to, long overdue or the silliest waste of time conceivable (next big news: Polo NZ forms polo committee).
According to one source, while the appointment of John Wright to national coach was unpalatable to many in and around NZC, Moller quietly but firmly pushed his case.
It would pay Wright not to get too comfortable, however - as NZRU chief executive Moller threw John Mitchell under the bus the day after the All Blacks crashed out of the 2003 World Cup.
Speaking of world cups, Moller is involved in the running of the 2011 event.
Busy man.
12. Mike Stanley:
NZOC president, Millennium Institute CEO, Academy of Sport North Island board member
* Last year: 22
It's a down year for the Olympic Committee but you can guarantee Stanley will have plenty to keep himself occupied.
An unprecedented amount of public and Owen Glenn money has been poured into the Millennium Institute, with the obvious aim of making it the hub for sporting excellence in the North Island. The challenge for Stanley is to deliver a world-class facility. A quote from Valerie Adams on the announcement of Glenn's latest donation last year - he has poured $3.85 million into the facility - shows the size of the task.
"The centre is good, but when you travel around the world and see what else is out there, it becomes obvious it has fallen behind in some areas, like sport science and technology," Adams said.
Best you get cracking then, Mike.
13. Marty Toomey:
Sparc, general manager high performance
* Last year: 12
We'll write the Fouhy debacle off as a mulligan for Sparc, but Toomey has bigger battles ahead and the Government funding agency is going to need a more coherent communications strategy if it is to emerge from inevitable showdowns in kayaking and swimming with its reputation intact.
Toomey finds himself with more money than ever to play with and, arguably, less deserving recipients than ever before.
It's easy enough to throw money to organisations like BikeNZ and Rowing NZ and tell them to get on with it because you know you're going to get something useful back.
With some of his other "targeted" sports, Toomey must feel like a goldrush speculator at the wrong end of the river.
14. Raelene Castle:
Netball New Zealand, chief executive
* Last year: 23
A very visible presence on the sidelines when the Silver Ferns defended their Commonwealth Games title in Delhi.
The first woman on the list, she gets there by virtue of keeping a firm hand on the tiller of one of the country's biggest, most high-profile sports.
She has also broken with a netball tradition somewhat in that she is not afraid to get her hands a little dirty by involving herself, rather than distancing herself, in issues that are, nasty word coming up, controversial.
If there's one project you'd like to see a little more direction from the top in, it is sorting out the embarrassing imbalance in the ANZ Championship squads.
The lifeless Pulse and flawed Tactix are the definition of low-performance sport.
15. Stephen Kearney:
Kiwis coach, Parramatta coach
* Last year: 21
A Four Nations title to go with his World Cup triumph, the career of Stephen Kearney continues in an upwardly mobile fashion.
You can bet there were some raised eyebrows in west Sydney with the appointment of a Kiwi as head coach of the under-achieving Parramatta Eels but one thing few would argue about was his credentials, either with the Kiwis or as assistant coach at salary cap scandal-hit Melbourne.
League through and through, his winning of the Four Nations was in many ways more impressive than the '08 World Cup, coming as it did without the aid of master coach Wayne Bennett.
16. Heath Mills:
NZCPA manager, Athletes' Federation board, NZCT trustee
* Last year: 14=
Blaming high player wages for poor performance is the last refuge of the old and the witless - didn't seem to affect Michael Jordan, Michael Schumacher, Sachin Tendulkar etc - but listen to your radio long enough and you would think Mills was personally responsible for the decline and fall of New Zealand cricket.
In his role as manager of the players' association, he has overseen the transformation of a semi-professional landscape to the point where our best players are among, if not the, highest-paid sportsmen in the country. It can be tough, however, being a players' advocate when your players collectively stink.
This is a power and influence list, however, not a popularity contest and Mills' influence continues to grow.
17. Daniel Vettori:
New Zealand captain
* Last year: 8
A year ago we were trumpeting the fact that Vettori was the most dominant cricketing figure we'd produced, what with him being the captain, selector, best bowler, best bat and surrogate coach.
All he had to do to become the WG Grace of his age was to get his side to win the odd game and do you think he got any support from his mates in doing that?
Do you?
New Zealand are now a basket case, hampered by poor decisions off the field and a meagre spread of talent on it. Vettori has been powerless to stop it.
Perhaps the saddest thing of all was in Hamilton he looked like his batting prowess was declining as fast as his power.
18. Darren Shand:
All Black manager
* Last year: New entry
If you believe the rhetoric, the All Blacks are Shand's outfit.
The more cynical have a hard time believing that if two of his staff, say Henry or Steve Hansen, were to say "No Shandy, we're not doing that", the personable former rafting guide would have the presence to say no.
He's reputedly a logistics genius, and the All Blacks and therefore Shand will be stretched to the limit this year.
19. Sonny Bill Williams:
All Black, boxer, freestyle skier
* Last year: New entry
The first All Black to have a Traveling Wilburys clause inserted into his contract - "Anything You Want (You Got It)".
There's seems little that Williams can't do on the field. There seems even less he can't get away with off it, either.
All power to him then.
20. Justin Vaughan:
NZC chief executive
* Last year: 14=
After the year he has had, Vaughan must look at the life-and-death world of medicine he came from and think: "There's far less pressure there."
21. Sir Patrick Hogan:
Racing and bloodstock identity
* Last year: 17
The profile of racing continues to fall away and nothing demonstrated that better than when it was announced last year that the venerable Avondale Racecourse would not be holding race meetings for at least a year (with many predicting racing will never return to the West Auckland track).
Hogan's influence on the industry remains all-encompassing and, according to some, the difference between dwindling interest and the sport being placed on life support.
22. Peter Dale:
NZCT chairman
* Last year: 24
The New Zealand Community Trust is the biggest of the "big five" gaming trusts. It distributes more than $40 million annually, with 90 per cent of that earmarked for amateur sport.
Outside Sparc, therefore, it is the biggest funder of sport in the country.
Each year, Dale signs about 2500 cheques to be deposited in the accounts of clubs and schools across the country.
23. Colin Giltrap:
Motoring magnate, motorsport investor
* Last year: New entry
If Sir Patrick is racing, then Giltrap is not far behind in terms of influence in motor-racing, particularly single-seaters.
He might try to shun the spotlight, but there are few who doubt either his influence or his pedigree in this global sport that, strangely, often struggles for recognition here.
The dreams of talented drivers often start with an audience with Giltrap.
24. Stephen Fleming:
IPL coach, player manager
* Last year: New entry
It took one call from Fleming to NZC to have Brendon McCullum restored to the Twenty20 squad for the recent series against Pakistan.
That's power.
Ironically, by not having a whole lot to do with New Zealand cricket other than in his role as manager to players such as McCullum and James Franklin, Fleming is now in a better position than ever to reclaim the sport as his own, just like he did as a player in the pre-John Bracewell days.
It will not happen immediately - he still has an IPL trophy to defend with the Chennai Super Kings and his portfolio of players to manage - but it will happen.
As with his batting, timing will be everything.
25. Dallas Gurney:
The Radio Network, general manager talk programming
* Last year: New entry
As the man in charge of the Radio Sport, Gurney should be in a position to have a far greater influence than he does on the sporting discourse.
Apart from a bit of a deckchair shuffle among the presenters, including the back-to-the-future resurrection of breakfast host Tony Veitch (though the signing of Matt Hunt as producer was clever), there is little evidence of any radical intervention to boost moribund ratings.
As a young and, apparently, highly ambitious executive, Gurney will surely come to the realisation that Radio Sport's continued relevance comes down to one word - content.
THE ATHLETE POWER LIST
1. Richie McCaw - All Black captain in World Cup year, it doesn't get any more pressure-filled than that.
2. Dan Vettori - not the all-powerful figure he was a year ago, but still the best cricketer we've got.
3. Sonny Bill Williams - Sky has hit ahyperbole home run - "undeniably one of the biggest names emerging in boxing" - to justify charging $30 pay-per-view.
4. Dan Carter - Should he stay or should he go? As long as he delivers a World Cup result, does it really matter?
5. Benji Marshall - You have to venture into Sydney's inner-west to get a gauge of how revered he is, though not for his goalkicking.
6. Ryan Nelsen - The defender is probably respected rather than revered in Blackburn, but he's been credited with the rebirth of soccer here.
7. Valerie Adams - The coaching thing was weird and she stood on the second step of the dais too often last year, but she still looms large over our sporting landscape.
8. Casey Williams - Commonwealth Games gold medal-winning captain. That will do a fair bit for your profile.
9. Ross Taylor - IPL has made him an instant millionaire, critics wish he would shelve a few of his million-dollar shots however.
10. Dean Barker - Not sure exactly what he's doing at the moment, but it's bound to be important.
THE FEMALE POWER LIST
1. Raelene Castle - Has a firm grip on the reins of the country's most popular women's sport.
2. Keryne Smith - A big mover and shaker in south of the South Island sport, Smith has replaced Barry Maister as NZOC secretary-general.
3. Valerie Adams - 2010 was a transition year. There's much more to come.
4. Ruth Aitken - The coach most assumed was in her twilight days has a new lease of life after Delhi.
5. Hilary Poole - Has seen the fate of the country's international teams improve, and therefore funding too, under her watch.
6. Casey Williams - Still just 25, Williams could leave a legacy to rival any Fern who has gone before.
7. Tracey Fear - The high-performance director at Netball NZ, a selector and one of Aitken's key advisers, Fear is considered the power behind the throne.
8. Glenda Hughes - A formidable lobbyist and media handler, Hughes was rarely seen last year, which must mean our sporting figures were better behaved.
9. Dr Farah Palmer - An expert in sports sociology and sports management, Palmer's greatest value might be as a mentor to budding sports stars.
10. Leanne McGoldrick - Shane Bond might have retired, but she has another T20 cash machine, Ross Taylor, on her books.