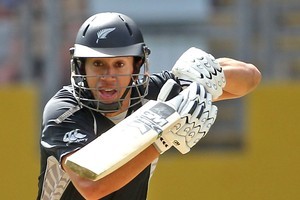 New Zealand cricket vice-captain Ross Taylor is hoping that working with John Wright again will result in some big scores.
Wright, who coached India between 2000 and 2005, was yesterday appointed New Zealand coach and Taylor, who has been going through a lean period with the bat, welcomed the new mentor.
The Black Caps have lost their last 11 one-day internationals on the trot and have had two coaches - Andy Moles and Mark Greatbatch - in the last 24 months.
Taylor told Radio Sport today he was looking forward to working with Wright.
"I worked with him in the past in the test series against Pakistan this time last year and got a couple of nineties".
He had not been getting as many runs as he would have liked but he remained confident he was not out of form.
"Hopefully I can show that in the next month and a half."
Pakistan's tour of New Zealand begins on Boxing Day with the first of three Twenty20s against New Zealand at Auckland.
- NZPA