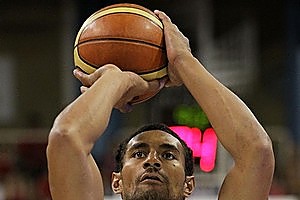 This time last year the Herald boldly ran a list of 10 reasons why the Breakers would become the first New Zealand team to win an Australian club title. Given how well that worked out (thanks a bunch, fellas) we've downsized our proclamations to a mere five reasons they might go okay. Frankly, having gone into last season favourites but not even making the playoffs, even that seems an extravagance, but here goes anyway.
1 - Kirk is back (probably)
Actually he never left, but we won't bog ourselves down in the contractual details. We'll just rejoice in the fact that the 2008/09 MVP and the team's premier match winner will likely be back doing his thing in a Breakers singlet just as soon as he confirms with his agent that no-one in the NBA wants a soon-to-be 30 shooting guard with no track record of success at that level. How well Penney picks up his bottom lip after seeing his dream dashed to pieces - probably for the last time - remains to be seen, but it's safe to assume the most gifted player in the league will be a fairly useful asset.
2- Mika's back
After two seasons away that netted him a title with South Dragons under Brian Goorjian and a playoff run with the Gold Coast Blaze the following season, Mika Vukona is back home at the club where he cut his ANBL teeth. Still one of the most athletic players in the league, Vukona has added an outside shot to round out his game. Last season he shot 7/15 from three-point land for a success rate of 46.7 per cent. Not a huge number, sure, but a pretty darn big improvement on the three three-pointers he landed over five years with the Breakers in his first stint with the club. Vukona will now take the shot - and quite often it will even go in.
3- The new import can shoot
Boy he can shoot. After a couple of years watching Rick Rickert take four attempts to convert a point-blank lay up, Gary Wilkinson promises to be a breath of fresh air. It's early days yet but Wilkinson set tongues wagging with his performance at the pre-season tournament in Darwin. The chunky American top scored for the Breakers in all three matches with hauls of 24, 24 and 20 points. He was deadly from beyond the arc, hitting eight out of 12 three-pointers, and perfect from the free-throw line, converting 10/10 chances. He also chased someone who annoyed him and slipped them a sly punch in the kidneys. Hard not to like the guy.
4 - Dillon Boucher
If pre-season form is anything to go by, The Pest still has some life in the old legs yet. Stops and turnovers win matches every bit as much as flashy scoring plays, and no one is better at the sneaky steal than Boucher. He's never going to shoot the lights out (unless it's a particularly large light and he happens to be holding a bazooka), but he will chalk up the assists and, when it's time for a scrap, there's none you'd rather have in your corner. With Vukona and Paul Henare also floating around, the Breakers won't lack for players with defensive spine.
5 - Oscar is gone, but not forgotten
Much to the relief of those who hoped for years that he would discover the game to go with his incredible physical attributes, the Oscar Forman era is over. He was the classic mirage. A breakthrough always seemed just around the corner, but all you found was a bloke who occasionally got hot from the outside but who defended like a drunken matador and hit the boards with the intensity of a water-logged trifle. Lovely bloke, though, so let's hope he goes well at the Wollongong Hawks. It's doubtful his trademark open channel through the Breakers' defence will be greatly missed.