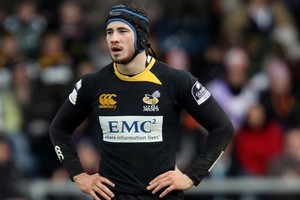 World Cup winning playmaker Jonny Wilkinson has predicted fellow Englishman Danny Cipriani will take Super Rugby "by storm" next year.
Cipriani, 22, is expected to link with start-up franchise the Melbourne Rebels this week for pre-season training ahead of the 2011 competition.
Wilkinson's move to big-spending French club Toulon has been credited with revitalising his career.
And he believes time away from the spotlight in England will also be beneficial for the young five-eighth, who has been a headline magnet in the United Kingdom as much for his deeds off the pitch as on it.
"Being away clears away the obstacles, the hurdles and the distractions and enables you to make the most of your talent," Wilkinson told The Telegraph.
"If Danny can achieve some of that, then I am sure he can do that.
"I have no doubt he will go over there and take it by storm.
"It would be a good move wherever he went because he will do a hell of a job."
Cipriani's decision to move to Australia has ruled him out of England's Six Nations campaign and all but ended his hopes of playing at next year's World Cup in New Zealand.
The gifted No 10 has played seven tests for England since his test debut in 2008, with a badly broken ankle and broken leg hampering his progress.
"Danny has a huge, huge future (with England)," Wilkinson said.
"This may be an experience that is going to give him an even bigger impact when it does come about."
The Rebels host the NSW Waratahs in their Super Rugby season opener on February 18.