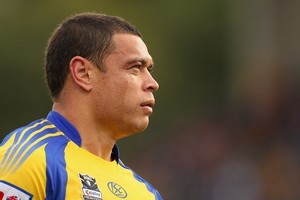 Parramatta centre Timana Tahu wants to acknowledge his Maori heritage and honour his late father's wishes by representing the New Zealand Maori league team before his playing career ends.
Tahu had talks with New Zealand Rugby League officials about playing for New Zealand Maori in an international against England in Auckland on October 16, but has since been selected in Australia's train-on squad for the Four Nations tournament.
Tahu's father, Tom, who died in 2003, was a New Zealander, while his mother is Aboriginal.
"It's something I want to do before I retire, honour my father by playing in some New Zealand jumper," Tahu, a former Kangaroos and New South Wales State of Orgin player, told Sydney's Sun Herald newspaper.
"The Kiwis at the moment is out of the question, but the next best thing is playing for the Maori.
"If I did get to play in that it would be a massive honour, plus I would get to acknowledge my Maori heritage. It's hard because I was [brought] up in Australia.
"My whole dream was playing for New South Wales and Australia. So for me, if I could do something for my father and family, my Maori heritage, if not this year I'll take up the chance before I retire."
Tahu, 29, who has also played international rugby for Australia, emphasised that he was rapt to have been selected in the extended Kangaroos squad.
"Even if I don't make the team, at least I'm happy with where we're at. With the Maori side it's about going through the right channels. [I'm] going through the international board, and hopefully something happens."
Tahu, who is also fiercely proud of his Aboriginal roots, walked out on the New South Wales team this year after overhearing racial slurs from former Newcastle teammate Andrew Johns.
- NZPA