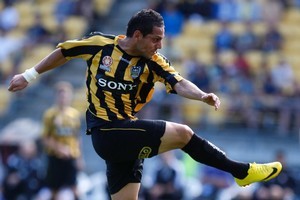 Ricki Herbert rates star striker Paul Ifill only a 50-50 chance of lining up for what could be an historic game for the Wellington Phoenix against North Queensland Fury tonight.
Ifill is hampered by a groin injury and Herbert will wait until later today before making a call.
"I'm not going to risk him," said Herbert. "If he is out we will bring in Daniel [Lins Cortes] up front with Nick Ward, Chris Greenacre and Leo Bertos in a 4-2-4 line-up."
With Tony Lochhead out and likely to miss up to 16 weeks - also with a groin injury which requires surgery - Herbert will play midfielder Vince Lia alongside Tim Brown and switch Manny Muscat to the left back role vacated by Lochhead.
Otherwise Herbert will put out the same team who lost 2-1 to Melbourne Heart in the second of their away games in Melbourne last week.
The Phoenix have eight points from seven games while the Fury have six from six. The Phoenix have scored nine and conceded the same number while the Fury have scored nine and conceded one more.
"They will be very tough," said Herbert. "They are a very competitive team."
The added incentive for the Phoenix is the long-standing record for the most undefeated games.
In the old Australian National League, Sydney United went 23 games without a loss at home between 1996 and 1999. The Phoenix have equalled that record going 23 games at Westpac Stadium since their 1-0 loss to Brisbane Roar on October 26, 2008.
"It will be great if we can get the record," said Herbert. '
Newcomer Jade North is looking forward to the game after the disappointments in Melbourne where they out-played the Victory but could only draw 0-0 before losing to the Heart.
"There were some tired legs out there [against the Heart] but we can't use that as an excuse," said North. "We'll learn from our mistakes. We've got new personnel in the team now so we've just got to gel slowly but I think we'll get there."
THE GAME
Wellington Phoenix v North Queensland Fury
Westpac Stadium, 7.30pm today (live SS2)