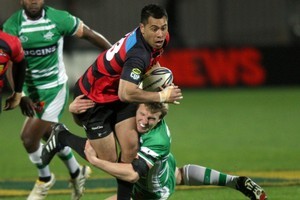 Manawatu deserved better than the bonus point they got out of a one-point loss to Canterbury at Palmerston North last night.
It had looked so promising for Manawatu in the first 60 minutes of the match.
Playing with organisation and flair, they had made the defending champions look like a disorganised rabble as they rammed four tries home in the first 44 minutes of the ITM Cup match.
First five-eighths Tomasi Cama was Manawatu's star as he pulled all the strings in the midfield to set up the opening try for fellow New Zealand national sevens star Lote Raikabula after just six minutes and score one himself.
Canterbury replied quickly when fullback Sean Maitland used his speed to ghost past the Manawatu defence for an unconverted try.
But a Manawatu pack ably led by skipper Nick Croswell then put an armlock on the forwards battle to crack an opening for Raikabula to surge through and grab his second try after Canterbury had taken a one-point lead wit a Colin Slade penalty.
Cama produced the try of the night. The ball was freed to him after another forward surge and he threaded the ball through the defence with a neat kick before pouncing on the off-breaking ball to dot down with Maitland going the wrong way.
With the conversion, Manawatu led 19-8 and they went into the changing rooms, looking well on the way to repeating their 2008 opening round 25-24 triumph over Canterbury.
They got their bonus point in just the 44th minute after a Shannon Paku midfield burst broke the Canterbury defence and Casey Stone took his offload at speed to show Maitland and Sam Monaghan a clean pair of heels.
But injuries to Crosswell and promising lock James Oliver and the sin binning of lock Reece Robinson unravelled Manawatu's hopes in the space of 10 minutes.
Canterbury with former All Black halfback Andy Ellis making a second half entry recovered their poise against a tiring Manawatu.
FULL TIME SCORE
Canterbury: 27
Manawatu: 26
- NZPA