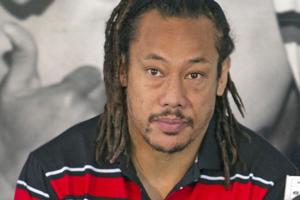 Tana Umaga says he doesn't know whether Sonny Bill Williams will join him at the Counties Manukau Steelers for the provincial rugby season.
The former All Blacks captain has arrived in Pukekohe, where he will be a player and assistant coach for the season.
There has been speculation that Williams, a former teammate of Umaga's at Toulon in France, could choose the Steelers as the union with which he will begin his New Zealand rugby career.
Umaga said he kept in contact with Williams but didn't know with which union he would begin his quest for an All Blacks' jersey.
"I do talk with him often, but we don't talk about what he's going to do," Umaga told a media conference today.
"I have told him that Counties Manukau is a great place to live, so I've heard, now that I've been here for a day, but in the end, he's got to do what's best for himself."
Umaga said he wanted a career in coaching but he imagined his biggest contribution to Counties Manukau this year would be as a player.
- NZPA