David Tua's boxing career has been dogged by disputes and controversy in the past. The Herald on Sunday, using the Official Information Act, looked into another fight, this time between Tua's promoter and broadcaster - a scrap that took place behind the scenes. Paul Lewis reports.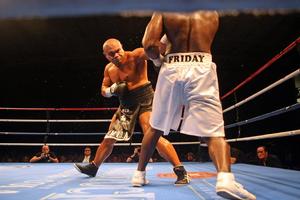 Threats of physical violence, Maori TV outrage at being called "parasites" and a key contract not signed until two hours before David Tua's last fight - that was the fight behind the fight.
The Herald on Sunday, on April 4, ran a story that quoted Duco Events spokesman David Higgins - Duco promoted Tua's last two bouts - making the parasites comparison.
Now documents gained under the Official Information Act show how the relationship between Maori TV and Duco collapsed - helping to explain why Tua's next fight is being held overseas and why the following one is also likely to be held outside New Zealand.
Tua is due to fight US journeyman Monte Barrett in Atlantic City on July 17.
His next fight is also likely to be held overseas because staging a fight locally is not viable - and because it gives Tua the ability to cash in from an overseas TV pay-per-view deal as well as broadcasting those two fights on Maori TV in New Zealand, thus fulfilling his deal with them.
Higgins' original remarks were a sharp reaction to a Maori TV press release which hailed unprecedented ratings from the channel's exclusive, live coverage.
"Duco and David Tua's camp are very proud to have created a large viewing audience over six months of hard work and financial risk," Higgins said at the time.
"Maori TV did very little to promote the fight and, really, what they did could be allied to parasites."
Higgins then backed off, not willing to say any more but did add: "At the end of the day, Duco Events can't do another show like that [Tua vs Friday Ahunanya]. It is just not economically viable."
However, emails gained under the OIA show there was fall-out over the comment and an already tricky relationship had coloured negotiations between Duco and Maori TV - to the extent the production contract governing the Tua-Ahunanya fight wasn't signed until two hours before the bout.
In an email to his executive team, on March 31 (the night of the fight), Maori TV CEO Jim Mather said: "Cedric Kushner [Tua's US promoter] has just phoned and advised that David Higgins has signed the contract. So now we have an executed production contract with 2 hours to spare! Cedric will give me a copy of the executed contract when I arrive at the stadium at 6.30pm."
The negotiations revealed Maori TV reluctance to show scantily-clad round card girls.
They had a similar reluctance to train their cameras on, and make verbal reference to, Woodstock, the main sponsor organised by Duco.
Maori TV's alcohol policy normally predicates against such circumstances.
At one stage, in January, Higgins threatened to cancel the event if such requests were not honoured as, without Woodstock, Duco would be facing too much financial risk.
The "parasites" comment created further difficulties.
In an April 12 email to Mather from John McRae, Higgins' co-director in Duco, McRae said: "Jim, I respectfully wish to point out that an ethical threshold was crossed by Maori TV before David Higgins spoke to the media last weekend.
"A Maori TV staff member threatened us via one of our family members without cause in front of several witnesses on the evening following the bout.
"This was still on David Higgins' mind when he spoke to the media. Also, another Maori staff member said to me in front of witnesses over the weekend that your organisation had "declared war upon us". If we see any evidence of this then our current stance of not commenting to the media will change because we take these threats very seriously.
"We are rightly angry that our families have been targeted by Maori Television staff who have made intimidating statements.
"Respectfully, I suggest that everyone backs off and looks for a "win-win" outcome."
Mather replied the next day: "John, I encourage you to lodge a formal written complaint with myself about the alleged threatening behaviour by a Maori Television staff member.
"I can assure you that any such complaint would be investigated and should it be substantiated, appropriate disciplinary action will be taken.
"This is a serious issue and you need to be prepared to validate your allegations. I cannot respond to innuendo and hearsay.
"However, your attempt to rationalise David Higgins' completely unrelated insulting comments about Maori Television is farcical.
"As is your veiled threat about commenting to the media and your ludicrous statement that your 'families have been targeted by Maori Television staff'.
"I reiterate that Maori Television has already 'backed off' through the decision I have taken not to engage further with Duco at any level."
Last night Mather said no formal complaint was lodged.
On April 9, Higgins wrote an email to Mather saying: "It is now apparent that David Tua wants to honour the remaining two bouts on Maori TV regardless of the damage this may cause him. With that in mind, I have decided to move on and refrain from commenting further in the media. I only hope the remaining two bouts on Maori TV will occur in a timely fashion against opponents of reasonable quality. Whilst I regret using emotive language in the media and the offence it may have caused, I want you to understand why my language seemed appropriate in a moment of anger.
"I have to question Maori TV's stance of "supporting" David Tua because you refused the Tua camp's appeal to release him from a clearly damaging situation. Arguably, Maori TV's three fight deal is costing Tua over $1 million in lost earnings and is adversely affecting his career path.
"If his next bout was on Sky TV, Tua would probably get $600,000 plus a percentage of pay per view revenue. However, on Maori TV, Tua will likely receive less than $100,000. Extrapolate this over your three fight deal and Maori TV is costing David Tua at least $1m in lost earnings - money which Tua's family urgently needs right now. Further, the Maori TV deal prevents Tua fighting big name opponents because you are not investing enough money to pay Tua and the opponent for the risk of such a bout.
"Remember, David Tua had just one bout left with Maori TV at the beginning of last year. To fulfil that obligation, Tua planned on having a tune-up bout before he fought Shane Cameron. But evidence suggests that Maori TV worked against Tua's tune-up bout plan and instead signed Tua up for three more bouts at $50,000 each. I have an email from Maori TV in which you advised several reasons why you thought Tua should not have the tune up bout.
"However, by not doing so, Tua is now restricted for three bouts and unable to earn the purses he deserves. Unfortunately, Tua faced losing his $500,000 Cameron purse if he did not agree to your three-bout extension, so he had little choice and little time to think it over.
"The moral justification for enforcing this situation appears based on a premise that Tua owes Maori TV some loyalty because you bought his Saul Montana and Cerrone Fox bouts for $30,000 each a few years ago. In my opinion Maori TV got a fair deal on the Fox and Montana bouts and Tua fulfilled his side of the bargain when Maori TV screened those bouts.
"Surely paying David Tua $60,000 for a couple of bouts a few years ago should not be used to morally justify costing him over $1 millon now by claiming some sort of "special relationship".
"As well as David Tua; the promoters, trainers, undercard and suppliers, who all endure months of work and risk, are suffering as a result of the cut price broadcast deal. Meanwhile, the broadcasters, whose minimal investment causes the suffering, boast of the "record ratings".
"Put yourself in our shoes and consider the risk and effort we expended over the past couple of years? Then hopefully you can part-way understand why I was angry enough to use the term parasites. My frustration was further driven by Sonia Haggie's refusal [Sonya Haggie, Maori TV general manager of sales, marketing and communication] to cooperate and look after our sponsors.
"In summary, I believe your deal creates a situation where Maori Tv wins big but everyone else loses, especially David Tua. Having got this off my chest, I am now moving on accordingly."
Mather's response was that Higgins' comments in the media were "not only appallingly insulting and perhaps defamatory, in a business sense those comments were also exceedingly stupid."
He repeated that there would be "no further engagement" with Duco Events at any level.
In a further email, to Haggie, on April 14, Mather said after a meeting with David Tua and wife/manager Robina: "David [Tua] emphasises that he has no issues about honouring his contract with us and has directly reprimanded David Higgins on three separate occasions about negative comments he has made about Maori Television. After the most recent event, he warned David Higgins that he was not prepared to have his own integrity tarnished by the negative comments being made by Duco.
"He also strongly advised David Higgins to publicly apologise to Maori Television for his 'parasite' comments."
Mather also pointed out that Tua had gone on Radio Live and stated his views about his relationship with Maori TV. Mather advised Tua that revenue was 'disappointingly low' around the Ahunanya fight and that was part of our rationale for publicising the ratings figures to potentially boost commercial revenue for the next fights. "David was very pleased with the ratings figures - I told him that it emphasised his ongoing high level of popularity with the New Zealand public."
Yesterday, Higgins said he did not want to comment further. Mather said last night that the whole episode had been disappointing as, when Maori TV had stepped aside to allow pay TV into the Tua-Cameron fight in return for rights to Tua's next three fights, Higgins and everyone else had applauded the move.
Higgins had "begged" Maori TV to step aside as Duco had to make payments relating to the fight which, if they had not been made, would have spelled financial disaster for Duco.
The production contract, Mather said, hadn't been settled until two hours before the bout because Duco were taking matters to the brink to gain concessions on disputed matters like the appearance in the ring of the Burger King mascot, which Maori TV opposed.