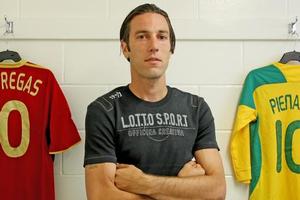 Other than some redness in his eyes, it's a beautiful display of close control. Reflecting on the night you qualified for the greatest sporting event on the planet, in front of your adoring fans, is clearly no reason for a football tragic to abandon his on-field cool.
"It was awesome," he eventually decides. "Just awesome." Then he reaches for his coffee and awaits the next question.
That's it? Really? "Yeah, awesome."
Ivan Vicelich is an All White. In fact, he's our most-capped All White ever. And he's going to South Africa to play at the FIFA World Cup in June. Not even in his wildest childhood dreams did he dare to venture this far, and he's indulged in some whoppers.
Only last year, the 33-year-old defender had thought time had been called on a fine career that had seen him marking some of the greatest names on some of the greatest stages his sport offers. He returned home from playing professionally in Holland for some quality family time when an SOS from All White coach Ricki Herbert saw him called up for his third FIFA Confederations Cup appearance.
Then he got swept along by football's ongoing Indian summer; first with that delirious World Cup play-off victory over Bahrain at the Cake Tin in November, then Auckland City FC's unprecedented fifth place finish at the FIFA World Club Championship and, most recently, watching Wellington Phoenix's finals run.
For a whippet-thin defender - more stiletto than axe - this is proper Roy of the Rovers stuff.
Maybe it's a decade of self-discipline and pressure that means Vicelich limits his reaction to this year of years to a simple "awesome". Perhaps you have to flatline all those highs and lows to reduce the emotional baggage you carry into the next challenge.
Whatever the reason, Vicelich wasn't always this way. Growing up as a lanky, pony-tailed Westie whose bedroom was covered by football posters, he didn't consider himself properly dressed unless he had a ball at his feet. Italian glamour boys AC Milan were his idols and he wanted to be just like them - if only he could figure out how.
So when his despite-the-odds dream finally came true, it's completely understandable that he had to tell someone, even if his timing was a little off.
He was in the Netherlands and his family and girlfriend were fast asleep, on the other side of the world. He did have a mate in London. Was 6am too early for him? Well, they had grown up watching football videos on the couch before running outside to count each other's juggles while arguing the merits of 4-4-2 versus 4-3-3 playing formations, so, sure, he'd understand.
"I was still up from a big night out," remembers Onny Faleafa. "He was so excited he was screaming down the phone: "I've won Lotto, I've won Lotto." So I got excited as well. It felt amazing, really, because I don't think there are many people who know everything he's been through to get there."
The pair first met as 11-year-olds in Vicelich's under-12 team at Massey FC and bonded over a desire to reach the top. They were winners from the start, striding easily through the grades to make the Waitakere senior reserve team when they were only 14.
"We were soccer nuts," says Faleafa. "It would have seemed pretty boring to anyone else, but we had dreams - even if we didn't know how we were going to achieve them. There were no professional teams here in those days, we just kept supporting each other and pushing ourselves. We'd do extra training together during summer and even when we were with our mates we'd be kicking a ball around. Soccer was all we did because it was all we wanted to do."
The pair were selected for the Centres of Excellence youth development scheme run by Kevin Fallon, coach of the 1982 World Cup All Whites. The programme included several internal football tours, where Faleafa and Vicelich were always roommates.
This was when Vicelich's reputation for financial smarts began. Even though each boy had to get by on $5 a day, he always seemed to end the day with change. They weren't the healthiest of tours either, their major sponsor was a fast food outlet, so lunch and dinner comprised burgers and fries until they got back to mum.
At 15, Vicelich was selected for the Waitakere first team squad featuring elite names such as All Whites Danny Hay, Noel Barkley and Darren McLennan. Within two seasons he'd been named New Zealand's Young Player of the Year, had helped his club win the national league and was man of the match in a victorious Chatham Cup final - heady stuff for a kid still at school.
"I already knew by then what my career was going to be about," he says. "It just came down to maintaining discipline and focus if I was going to make it happen." Out went the partying and in came a 10pm curfew on pre-match nights. He knew he had to look after himself to have any chance. "Talent is a big part of [success] as well as a bit of luck, but in the end everything comes down to the top three inches and never giving up on your goals. When you're a teenager, that sort of thing can be really hard, but I had great support from my family and friends - they're still huge for me - Mum and Dad would drive me to training then sit in the car until I had finished. Like any kid I took it for granted but looking back, I couldn't have done it without them."
Then came 1995. Vicelich had shown potential with the under-17 and under-20 national teams, and was set to be named in the Olympic under-23 squad when All White coach Bobby Clark decided to see if he had the right stuff for the highest level. As national team leader, Clark was involved in every level of football, so he was familiar with Vicelich's budding career. He decided a tour to South America would be an ideal testing ground for a few promising upstarts and, in Vicelich's case, prepare him for the under-23 captaincy.
"Ivan was, and still is, an excellent player," says Clark, now head football coach at New York's University of Notre Dame. He was smart with the ball, made good decisions and was just a very good player; maybe not the fastest, but definitely one of the smartest. Although I only gave him one start, I knew he had a big future as an All White and I hoped it would help get him excited about working hard at his game."
That one start remains one of Vicelich's most enduring football moments; ironic, as it's also a game most All White fans prefer to forget. It's still our worst ever loss, a 7-0 drubbing from the fleet feet of one time-World Cup giant, Uruguay.
"I was only 17, so I didn't expect to get any game time at all," says Vicelich. "Even though I only got 20 minutes, it was huge for me. I was so nervous. We were playing in this huge stadium, 50,000 people making all this noise, and I going up against guys like [Uruguay legend] Enzo Francescoli. If anything I think I was a little relieved that the game was already lost - nothing I was going to do was going to make things worse - so for me that was an amazing tour."
Back in New Zealand, Vicelich ended his 64-match spell at Waitakere City and transferred to cross-town rival Central United. After four seasons, including two more Chatham Cup wins, another national league title, and starts in every match of the All Whites' first FIFA Confederations Cup appearance, he finally got a taste of professional football with the Football Kingz.
He'd already declined the offer of a football scholarship to the United States, an opportunity his old mate Faleafa had leapt at. If nothing else the Kingz promised the opportunity to learn from player/coach Wynton Rufer, Oceania's player of the century and another of Vicelich's childhood heroes.
If that club's eventual collapse turned the Kingz into a byword for hapless failure, Vicelich has nothing but praise for his 16-month experience. Rufer's two seasons in charge turned out to be their most successful, he was an excellent role model in terms of professionalism and commitment, and his European contacts remain invaluable. One outcome from those connections, the import of, well, let's just say the less-than-spectacular Dutch striker John Lammers, led to Vicelich's move to Europe in 2001.
Lammers' playing days were all but over and he was considering retiring to become a player's agent, a career change he made as soon as his contract was up. Shortly afterwards, Rufer approached Vicelich to tell him that several first division Dutch clubs were looking for defensive midfielders and Lammers might be able to organise trials.
A few weeks later Vicelich was on a plane pondering some last-minute advice to pack smooth-soled turf shoes. All became clear once he'd started the 2.5-hour road trip from the airport to Kerkrade, home of perennial mid-tablers, Roda JC. He'd arrived in mid-winter and Holland was a flat iceblock. Sprigs would be no use.
"I knew I was in for a tough time," he remembers. "I'd never played in ice and snow and I was jetlagged. Too bad, I was straight into training. I just concentrated as hard as I could on doing the basics, keeping it simple, with no mistakes. This was the biggest opportunity I'd ever had, but that doesn't mean it's time to try and beat 10 guys. I came away feeling pretty confident, I knew I hadn't done bad or awesome, but I'd done my best ..."
The coaches liked what they saw and offered him a contract, estimated at $750,000 a year with a one-off $100,000 transfer fee.
Vicelich's lotto numbers had come up big time and he was straight on the phone to a partied-out Faleafa, who was now in London after a career-ending injury. Once the brand new pro calmed down, the enormity of what he'd let himself in for began to sink in; he had made it, now he had to prove he was up to it. From now on every training session became judgment day.
"We trained with a full squad so I had to give 110 per cent every single time. We had at least three or four guys competing for every spot in the team, and every week more guys would come in for a trial. So, you have to learn how to deal with that pressure, because it never lets up. It's perform or you're out. Unless you're that one-in-a-million player who can coast all week and still score winning goals, it's just hard slog, staying fit and trying not to get injured."
After debuting against Dutch giants Ajax Amsterdam, Vicelich became a regular first team player, appearing in 129 games over five years. His 14 goals included a hat-trick against Ado Den Haag - there's a match video still waiting to be shown to his son, Luka who turns 2 in May.
Of course, there were testing times, especially with the death of his brother in the United States during his second season, the same year he was named New Zealand's International Player of the Year.
There were also disappointments like the day injury forced him out of a UEFA Cup match against his childhood heroes, AC Milan.
And don't forget off-field challenges. He learned fast about the extra scrutiny players endure in a football mad nation as well as the isolation of being foreign. Luckily he'd landed at a club known for its diversity - as well as the solitary Kiwi, Roda's team sheet included a joblot of Europeans, an Australian, Brazilians and a Gambian, all of who bonded into a mutual support group.
And Vicelich loved it all. Every week, he'd march out to take on the likes of Salomon Kalou, Ruud van Nistelrooy, Wesley Sneijder, Robin van Persie or Arjen Robben in front of thousands of rabid fans. "And every time I'd tell myself I'd be marking the best player in the world. I do that before every game so I have to be at my best. But you can't let that get to you. You have to believe you're good enough, always, that's why you're out there in the first place. If you do you're really going to struggle." And struggling never does in the land of total football. Dutch fans almost demand style over of victory, says Vicelich. Their team might slog out a 1-0 win, but if the play hadn't been pretty enough they'd be boo-ed off the pitch.
His occasional All White duties were almost a break, he says.
When his contract ended in 2006, he declined an extension in favour of trying something new. After considering moving countries, he ended up at RKC Waalwijk on a two-year deal. Twenty-one games later he sat down with his long-term girlfriend and now wife, Marisa, to discuss their next move.
"After talking to her and my parents, we began to think about coming home. My wife was pregnant and I was 31, so it seemed like the right time ... and there was always the possibility of returning again sometime in the future."
In reality, it was an informal retirement. Vicelich was happy to settle into a stable homelife as a dad and husband while playing national league footy with the lads at Central of a weekend. There had been the possibility of joining the Wellington Phoenix, but those discussions came to nothing. Given Phoenix coach Ricki Herbert was also in charge of the All Whites, it appeared that a decision on his international future had been made for him.
Then All White captain Ryan Nelsen came a cropper and Vicelich was pulled in for his third Confederation Cup campaign.
Apart from missing one match through suspension, he's held his spot ever since. If anyone in New Zealand football has a claim on the name phoenix, it's the man who grew up out west.
So he knows this is a year to be savoured, while pondering a move in youth development. He's replayed that nailbiting win over Bahrain several times and always gets nervous during the final 20 minutes. The impact of that match has even spawned a new dream.
"That night, I just couldn't believe the atmosphere. It was such a rush, so much emotion. Playing for my country has always been special for me and while you always hope for something like that to happen, you never expect it. We changed football in this country that night, but I also think we might be changing New Zealand sport."
Awesome indeed.